Doocy Reacts To White House Calls With Media Matters: 'Liberals Don't Even Like' Media Matters' David Brock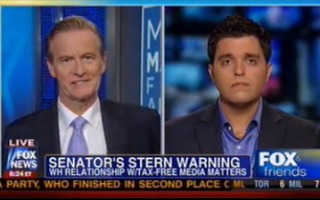 Following up on its report that liberal media watchdog Media Matters is working in conjunction with the White House to — as Fox & Friends host Steve Doocy put it — fulfill MM's "self-proclaimed mission is to destroy Fox News," Fox & Friends spoke with the Daily Caller's Vince Coglianese about Senate Minority Leader Mitch McConnell's recent warning for the White House in light of reports concerning weekly conference calls with Media Matters.
RELATED: Steve Doocy: 'Media Matters May End President Obama's Hopes Of Getting Re-Elected'
"I just don't get why the White House… This is an organization headed up by David Brock," said Doocy. "He was a Republican before he turned Democrat, you know, conservative before liberal. The White House is in bed with this guy's organization. He's an admitted liar, you know, that is documented and yet, liberals don't even like him and he's the point person on the counterspin for the White House?"
Coglianese noted that, as recently as last week, Media Matters has "actually had increased the amount of coverage it has defending the President during an election year, which is a very dodgy thing to do for an organization that's tax exempt and not allowed to be supporting any individual candidate."
The issues now, he explained, is whether the White House is infringing on the right to free speech by working with an outlet that will "go out and try to harass critics of the President." McConnell's statement, he added, basically amounts to equating the White House's lack of denouncement as an endorsement of these tactics.
Check it out, via Fox News:
Have a tip we should know? tips@mediaite.com