Dope Opera: Lawrence O'Donnell Blasts Embattled Generals For 'Crazy' Letters On Twin Sister's Behalf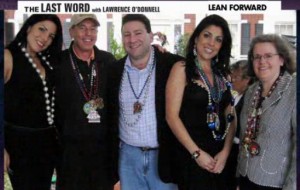 On Tuesday night's The Last Word, host Lawrence O'Donnell picked at yet another new angle on the Gen. David Petraeus/Paula Broadwell/Gen. John Allen/Jill Kelley/shirtless FBI horndog saga that the entire government is wasting their time, and ours, on. In September, both Gens. Petraeus and Allen drafted and sent letters to a family court judge in support of a child custody appeal by Natalie Khawam, the twin sister of Petraeus-gate fulcrum Jill Kelley. O'Donnell blasted the two multi-starred worldbeaters as "naive" for sending "absolutely crazy" letters in such a case, but completely glossed over the lede: there's a freaking twin sister in this story now?
The best part of this segment, as is true of any cable news segment on this story, is O'Donnell's summary of events at the top, which plays like a Jenga game in a soap opera writer's room. For the love of God, please do not make me recap it again, just click on a bunch of these links. Oh, fine, here goes. On Friday, CIA Director Gen. David Petraeus resigned over an affair with biographer Paula Broadwell, it was revealed that an FBI agent allegedly sent shirtless photos of himself to Jill Kelley, the woman who started the investigation of Petraeus because she had received "threatening" emails from Broadwell (that FBI guy also called Rep. Eric Cantor and told him about the whole thing a few weeks ago, and Cantor kept his mouth shut about it). Marine Gen. John Allen, the top U.S. commander in Afghanistan, is also now under investigation for alleged "inappropriate" emails to Jill Kelley, who delusionally thinks she has this:
Whew. So, Petraeus and Allen tried to do Jill Kelley's twin sister a solid by writing character references for her in her custody case. This is what pushed O'Donnell over the edge. He told MSNBC.com Senior Editor Richard Wolffe, "Richard, I don't know, I don't know much about waging war. I do know a little bit about living life. And these generals are writing absolutely crazy letters, which I don't have time to read, to a judge in a custody battle."
Wolffe correctly pointed out that, custody battle notwithstanding, these guys are two of the most powerful men in the world, one of whom is accused of sending up to 30,000 pages of possibly "inappropriate" emails to Jill Kelley. "Is there not enough work for either of these people there?" Wolffe said.
O'Donnell went off about the custody letters a few more times, but I think Richard Wolffe absolutely nailed it. Unfortunately for Richard Wolffe, Lawrence O'Donnell, and even Tommy Christopher, we actually don't have anything better to do right now. O'Donnell already renamed the fiscal cliff, and that John Kerry trial balloon took up all of about a hot second. When does President Obama's press conference start? And can someone ask him about a local police matter, please? We are dying here.
Here's the clip, from The Last Word:
Follow Tommy Christopher (@TommyXtopher) on Twitter.
Have a tip we should know? tips@mediaite.com