Double Standard? Fox & Friends Rips Obama For Imposing Federal Law On Guns But Not Marijuana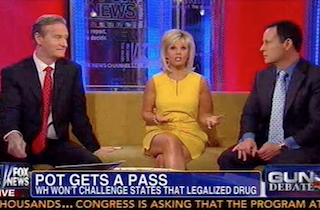 On Wednesday's show, Fox & Friends took on President Obama for what the hosts saw to be a double standard. While the president has said he doesn't want to enforce the federal law in states that have legalized marijuana, Brian Kilmeade asserted, he seems to be singing a different tune when it comes to guns. He wasn't pleased.
"It does not make sense from a prioritization point of view for us to focus on recreational drug users in a state that has already said that under state law that's legal," Obama said in December about marijuana, when Washington state and Colorado legalized it.
"It's the issue of what should the state be controlling," Gretchen Carlson argued, pointing to issues marijuana, gun control, and marriage — and questioning whether states or federal law should prevail. Kilmeade, though, remained focused on the gun control argument.
"Yesterday he comes out and says when it comes to guns, 'I'm making sure the federal law stands despite states like Louisiana coming out — and Idaho and Texas coming out — with their own state laws, which are almost a preemptive strike against federal laws that would take away or limit gun use," he added.
Steve Doocy went on to point to White House Press Secretary Jay Carney's saying people ought to follow the law. "Well then, if they follow the law, they would arrest those pot smokers in states like Colorado and Washington, where smoking pot is against a federal law," he argued.
Take a look, via Fox News:

Have a tip we should know? tips@mediaite.com