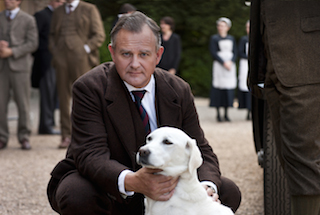 If you live in the U.S. and don't illegally download TV shows, then you will have to wait until January 2015 to enjoy the fifth season of Downton Abbey on PBS. But across the pond, British viewers are currently six episodes in. And according to The Hollywood Reporter (SPOILER ALERT!), the family's dog is sick. She also happens to be named Isis.
Despite the fact that the show takes place nearly 100 years before the rise of the Islamic State in Iraq and Syria or ISIS, speculation is swirling that the show may be on its way to killing off the dog to eliminate any unintended associations for modern audiences.
A spokesperson for ITV, which produces the show in Britain, submitted this statement to the Independent:
"Isis has been the Crawleys' family pet since series two (2011) and was named after the Egyptian goddess. At the time the dog was named, and up to and including the majority of filming of series five, no one was using that acronym to describe a terror group. It is an unfortunate coincidence."
So, while it seems that Isis could likely survive season five, will she make it season six? And will her master Lord Crawley find a way to soldier on if she does?
Of course, given the fact that ITV put out one of the first press pieces about the issue, it's entirely possible that the whole thing is a publicity stunt aimed at drumming up viewers mid-season. Remember, this is the same show that "accidentally" placed an anachronistic plastic water bottle in a promotional photo over the summer and nearly broke the internet in the process.
The official trailer for the fifth season contains plenty of potential dramatic bombshells, but none of them concern Isis.
Watch video below, via ITV:
[Photo via PBS]
— —
>> Follow Matt Wilstein (@TheMattWilstein) on Twitter
Have a tip we should know? tips@mediaite.com