Dr. Ben Carson For President? 'I'll Leave That Up To God' He Tells This Week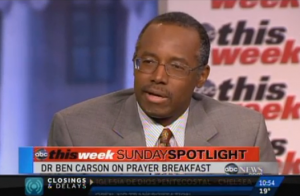 Dr. Ben Carson made quite a splash with his remarks at the National Prayer Breakfast — even recently eliciting a "Ben Carson for President" editorial from the Wall Street Journal. On Sunday, Carson paid a visit to This Week to react to the paper's statement as well as the "overwhelming" response he's received.
"Before I gave that talk, I prayed and asked God to give me wisdom — what to say, what would resonate what would be important," Carson said, asked about the response to his remarks. Adding that he didn't feel it was "particularly political," he went on to note that he's "diagnosed" issues that resonate with many people. Hence the overwhelming response.
Zoning in on the actual discourse, Carson cited a need to "tone down" the rhetoric and be able to have a reasonable discussion. "I have never heard somebody talking about a flat tax at a prayer breakfast," fill-in host Jonathan Karl remarked. It comes from the concept of tithing, Carson replied.
With that, they moved on to President Obama specifically. "He's a very talented politician," Carson remarked, but several of his policies simply aren't helping us. "I don't want to sit here and say all his policies are bad. But what I would like to see more often is this nation is an open and intelligent conversation — not just people casting aspersions at each other."
People "act like third graders," he said.
Finally, Karl couldn't let him go without asking him about the WSJ editorial and whether Carson has interest in pursuing politics. "It's not my intention," he replied, "but as I always say in every part of my life, I'll leave that up to God."
"That sounded far from ruling it out," Karl remarked.
Take a look, via ABC:

Have a tip we should know? tips@mediaite.com