Dr. Drew Pinsky 'Accuses' Jon Lovitz Of Threatening Obama, Asks If He Has Spoken With Secret Service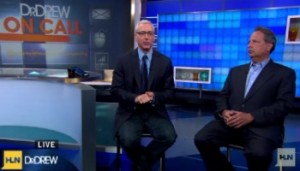 Radio and television host Dr. Drew Pinsky recently interviewed comedian Jon Lovitz on Headline News where Lovitz defended comments he made about President Barack Obama's push for higher taxes on Americans making the largest share of income. Pinsky playfully accused and incredulous Lovitz of threatening the president and asked Lovitz if he had spoken with the Secret Service about the matter.

RELATED: Actor Jon Lovitz Explodes At Obama: 'What A F**king A**hole'
"The Secret Service is now out looking for you," Pinsky opened the interview by asking Lovitz. "Did they come and talk to you?"
"No," replied Lovitz.
"Well, you made some threats against the President," said Pinsky. "No I didn't. I didn't make any threat," Lovitz replied.
Lovitz went on to say that he said Obama was "lying" about the share of taxes that wealthy Americans pay.
"Saying that people in a certain tax bracket don't pay their fair share of taxes – that's not true," said Lovitz. "47 percent of the country doesn't pay any taxes because they can't afford it and they have deductions."
"So you have in a–$250,000 or more, you have a 35 percent federal tax and in California you have another 11 percent, that's 46 percent," Lovitz continued. "You have property tax, you have city tax, you have FICA, you have sales tax."
When Pinsky said Lovitz was a "fat cat" who is "complaining," Lovitz went on to clarify that he does not like Obama "saying those people in that category who came from nothing and worked hard and made something of themselves are now, they're not paying their fair share of taxes."
"It's like the 1 percent versus the 99 percent," concluded Lovitz. "He's creating class warfare in a country with no class structure."
Watch Pinsky interview Lovitz below via Headline News:
h/t News Busters
Have a tip we should know? tips@mediaite.com