Dr. Keith Ablow Connects the Dots Between Rachel Dolezal and Caitlyn Jenner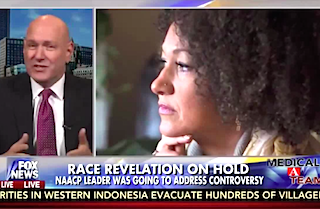 Fox News psychiatrist Dr. Keith Ablow sees some parallels between the now-former NAACP chapter president Rachel Dolezal and transgender reality star Caitlyn Jenner. And not in a good way.
Over the weekend, MSNBC's Melissa Harris-Perry brought up the transgender analogy in relation to Dolezal, whose parents say she was born white but had been attempting to pass herself off as African-American for several years. While she was careful to say that being transgender is not "equivalent" to being "transblack," she did find some of the language used to understand gender transition helpful in cases like this one.
On Fox & Friends Monday morning, Ablow was somewhat less careful. "I'm not judging folks who put forward a transgender position, Caitlyn Jenner and the rest," he said. "But when you decide that a genetic reality is not a reality — if this woman believes to her core that her identity is that of a black woman, one could argue — not me, but one could argue that she should accepted according to her, quote, 'racial identity.'"
As another example, he brought up Sen. Elizabeth Warren (D-MA), who at at least one point in her life claimed a Native American identity based on a small percentage of her ancestry.
"We could be coming to a time — strangely, some might say — where what people say they are is what you have to accept them as," Ablow said. After playing a clip from Harris-Perry's show, he posed another example, this time using himself as the subject.
"If I believe in my soul that I'm a 65 year old — I happen to be 53 — if I believe I'm 65, I say it to my doctor, I feel it in my core, can I apply for Medicare?" Ablow asked to laughs from the hosts. He claimed that lawyers he consulted concluded that this idea is not so far fetched in the era of laws that protect transgender people.
Age may be "nothing but a number," but unlike the social constructs of gender and race, it is at least based on concrete and immovable facts.
Watch video below, via Fox News:
[Photo via screengrab]
— —
>> Follow Matt Wilstein (@TheMattWilstein) on Twitter
Have a tip we should know? tips@mediaite.com