Dr. Keith Ablow Tells O'Reilly Chaz Bono On DWTS Akin To Celebrating Anorexia, Heroin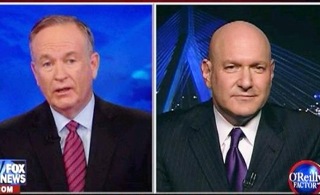 Tonight marks the much-discussed debut of transgender activist Chaz Bono on Dancing with the Stars, and his biggest opponent on cable news, Fox News contributor Dr. Keith Ablow, marked the occasion with a visit to the O'Reilly Factor doubling down on his claim that children watching Bono could be incited to change sexes. "He is on a campaign to mainstream trasngenderism," Dr. Ablow told host Bill O'Reilly, arguing that celebrating him would be like "inviting people with anorexia on a fashion show" or publicizing heroin addiction.
Dr. Ablow repeated his original argument that, as "people model their behavior after another," having children watch Bono would make them think transgenderism is possibly a viable alternative to how they were born. "We wouldn't invite people with anorexia on a fashion show," Dr. Ablow argued (and thus exposed to the audience that he has never seen a fashion show), "this is an exact parallel."
O'Reilly seemed to miss the point of his argument. "What's wrong? You're an American, you can choose now with medical science to do many things, you have a right to do it legally." For Dr. Ablow, there was a difference between the actual transgender transformation and "coming to me or my children or you and say[ing] 'I want you to agree with me,'" noting that Bono had expressed interest in Brad Pitt/Angelina Jolie child Shiloh, "to tell her that when she develops breasts she should cut them off," he questioned. O'Reilly continued to express skepticism, even adding that watching Bono might be "a positive for parents to discuss this," but Dr. Ablow stuck by his guns (as he has on this topic before), insisting that it was both a medical and moral problem, and that allowing any behavior as a discussion topic would open the floodgates to celebration drug addiction and other destructive behaviors.
The segment via Fox News below:

Have a tip we should know? tips@mediaite.com