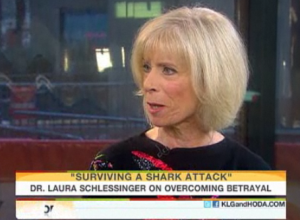 Dr. Laura Schlessinger is back on the scene and ready to talk more about her infamous tirade full of the N-word last summer. She appeared on the fourth hour of The Today Show with Kathie Lee Gifford and Hoda Kotb to promote her new book "How to Survive a Shark Attack (On Land)," to discuss the benefits of revenge and to share her unhappiness with a media double standard.
After Dr. Laura expressed how much she loved the idea of revenge, Gifford remarked about Dr. Laura's lust for justice, "it's a little maniacal . . . you're scaring us." When you're the one scaring the entertainingly loopy Gifford, you might be in trouble. From there Dr. Laura admitted she doesn't regret the incident, and was merely inartful. Instead, she name drops George Stephanopoulos and CNN as wrongly playing up the incident and attacked comedian Bill Maher even more directly:
"No what it is – is I'm a social conservative. That's what it's about. Because Bill Maher went on Larry King and articulated the word and nobody sucked in a breath, because he's a social liberal. So the media distinguishes between good and bad by political persuasion."
And just for kicks, she threw in an "Uncle Tom" reference in relation to comedian Bill Cosby and how they "Uncle Tom'd him because he stood up for values" within the African American community. Now a host on Sirius radio, many might be quick to dismiss Dr. Laura as a fringe personality, yet her point about the N-word double standard is surely a debate worth having.
Watch the clip from NBC below:

And check out Maher casually dropping the N-word in his conversation with Larry King in September, 2010, just one month after Dr. Laura's incident:

Have a tip we should know? tips@mediaite.com