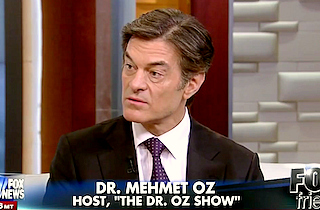 Dr. Mehmet Oz, who's come under increasing scrutiny for hawking miracle dietary cures on his popular show, told Fox & Friends' Elisabeth Hasselbeck that he'd made one big mistake in his career, on which he's already reversed course.
"I wish I'd never used the laudatory terms I used for weight loss supplements," Oz said. "That was the big mistake I think we all acknowledge. I stopped doing that a long time ago, over a year ago."
"I never wanted my messages to be hijacked by marketers on the web that are stealing my name and likeness and trying to sell you products. I realize there's a lot of fraud in the products themselves…and the research behind it was often fraudulent. But I in general get it right."
RELATED: Fox Contributor Decries 'Witch Hunt' over Dr. Oz: 'Offensive to 1st Amendment'
Oz's involvement with medically debunked suppliments earned him a congressional rebuke last year, while ten major physicians signed a letter last month demanding he be removed from the board of Columbia University's medical school. Oz has been mostly defiant in the face of criticism.
"I do toggle back and forth between hard core medicine, which I do believe we do a very good job getting it right," Oz said. "But I like to look around the corner. What other ideas might be helpful? The show is about prevention and wellness. It's not a medical press show. My job is to take America and elevate the conversation."
Hasselbeck said Oz did a fine job of "arming" people with alternatives to present to their doctors. They both agreed this was a good thing.
Watch the clip and delete your account via Fox News:
[Image via screengrab]
——
>> Follow Evan McMurry (@evanmcmurry) on Twitter
Have a tip we should know? tips@mediaite.com