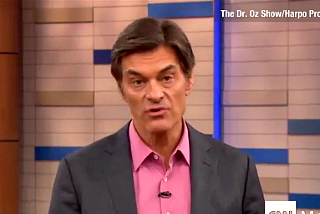 Per CNN's Brian Stelter, Dr. Mehmet Oz has taped a special and defiant episode of his show Tuesday, in which he strikes back at a group of doctors who have called upon him to resign from Columbia University. In a preview clip obtained by CNN, Oz vows "not to be silenced" to his audience of millions.
"This month, we celebrate my 1000th show," Oz said in the show that will air Thursday. "I know I've irritated some potential allies in our quest to make America healthy. No matter our disagreements, freedom of speech is the most fundamental right we have as Americans. And these 10 doctors are trying to silence that right. So I vow to you right here and right now: we will not be silenced, we will not give in."
Oz, vice-chair at Columbia's Department of Surgery, came under congressional scrutiny last year for hawking bogus dietary supplements. A group of ten doctors demanded Oz's resignation last week, writing in part:
"Dr. Oz has repeatedly shown disdain for science and for evidence-based medicine, as well as baseless and relentless opposition to the genetic engineering of food crops. Worst of all, he has manifested an egregious lack of integrity by promoting quack treatments and cures in the interest of personal financial gain.

"Thus, Dr. Oz is guilty of either outrageous conflicts of interest or flawed judgements about what constitutes appropriate medical treatments, or both. Whatever the nature of his pathology, members of the public are being misled and endangered, which makes Dr. Oz's presence on the faculty of a prestigious medical institution unacceptable."
Per Stelter, Oz is expected to follow the show with a Friday interview on the Today show. Maybe he'll live-delete his account!
Watch the clip below, via CNN:
[h/t CNN]
[Image via screengrab]
——
>> Follow Evan McMurry (@evanmcmurry) on Twitter
Have a tip we should know? [email protected]