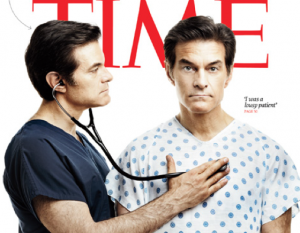 You may have thought about TV's Dr. Oz as the kind of cool, smart doctor you wish you got to talk to when you had a problem or a question, instead of the doc who keeps you waiting forever and then seems vaguely uninterested while examining you. Dr. Mehmet Oz may be a great caregiver, but turns out–by his own admission–he's a lousy patient. "In hindsight, I recognize that the universe had to drill through three distinct layers of arrogance (or denial) as it changed my perspective on cancer and cancer screening," Oz writes in a TIME cover story on his recent cancer scare, which hits newsstands tomorrow. "I was healthy, and I knew the statistics, and I figured the risks didn't apply to me."
The revealing story, part of TIME's health special report on cancer, describes a routine day for the celebrity doc that turned serious:
Back in August, my doctor discovered a suspicious polyp that needed to be removed. It turned out to be precancerous, and while a large majority of such growths do not eventually become cancer, colon cancer usually starts with just that sort of polyp. So did I have the 40-some years left to me that I had been more or less counting on — or just a year or two? You ask a lot of existential questions like that when you get the kind of news I had gotten. And you do a lot of hoping that when you return for a follow-up exam, all will be well — and the problem will simply go away.

Now I was going in for that follow-up. Surely I would get the all clear, and life would go back to being what it had been. I didn't, and it didn't.
Oz writes that the diagnosis simply made no sense to the doctor who's made a career of knowing all about healthy living:
When it is about you, your mind races. Am I at fault? Could I have done something differently? What do I tell my children and wife? What if I actually get cancer? Have I done everything I set out to do in life? I am a physician who gives advice for a living. I have spent much of my professional life extolling the value of healthy eating and regular exercise, and I practice both. So how in the world did this happen to me?
Have a tip we should know? tips@mediaite.com