Driving The News: Fox Covering 'Fast & Furious' 10 Times More Than MSNBC And CNN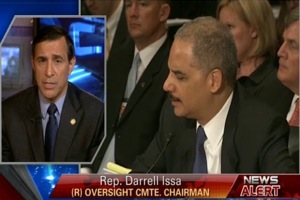 The 'Fast and Furious' story appears to be turning a major corner with the news that Congressional investigators, led by Rep. Darrell Issa, are sending a new subpoena to Attorney General Eric Holder over the DOJ's failed gun running operation. The subpoenaing of the head of the Department of Justice is big news, but it seems that only viewers of Fox News channel are hearing much about it – and boy are they ever: a simple search of a television transcript database indicates that FNC has covered this story ten times more than its cable news competitors, MSNBC and CNN.

RELATED: Darrell Issa On Investigation Into 'Fast And Furious': Cooperation With Justice Dept. Close To 'Zero Percent'
According to TV Eyes, the phrase "Fast and Furious" has been mentioned a sum total of 550 times in the last three months. The same search for CNN reveals 93 mentions, while the phrase has been stated on MSNBC a paltry 29 times. In full disclosure, the method for this research relies on sometimes rough transcripts, and makes no distinction on context; it is entirely possible that Fox News decided to promote the hell out of the latest in the Fast and Furious film franchise, but that's almost certainly not the case.

RELATED: Rep. Darrell Issa: 'It's Hard To Believe' AG Eric Holder Didn't Know About 'Operation Fast And Furious'
While it may be cliche, it bears repeating that a major effect of the current opinion media landscape is that some stories are amplified — and yes, conflated — according to partisan ideology. Kurt Andersen has wisely noted that individuals now appear to mostly only consume media the reaffirms their pre-existing opinions. So a viewer watching Fox News believes that Fast and Furious is a big scandal that may bring down Holder, while viewers of CNN and MSNBC have heard little of it.
While most people still get their news from the networks, in the cable news realm FNC enjoys more total viewers than CNN and MSNBC combined, so the 'Fast and Furious' story seems almost to be a "Fox News Exclusive" thus far. This may say as much the echo chamber than in the actual reporting, but a subpoena being served, and a potential hearing to follow, should reveal as much about the reporting of this story as the alleged scandal itself.
Have a tip we should know? tips@mediaite.com