Drunk Woman Arrested In Museum After Dropping Pants And Rubbing Butt On $30 Million Painting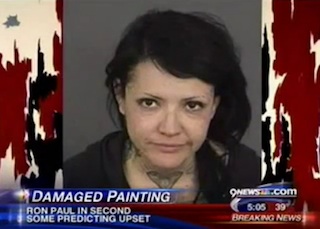 Guys, we've all been there. You're hanging out, incredibly drunk at 3:30 on a Thursday afternoon when you suddenly get the urge to head over to a new art museum, drop trou, and attempt to urinate on an abstract-expressionist painting worth tens of millions of dollars. Seriously, we've literally all had that thought. I mean, what's a better way to blow off some steam as well as critique the movement's supposed anarchic aesthetic by shoving a truly rebellious paradigm into its collective face? Nothing. But we all know better than to actually do it.
Unfortunately, a Denver woman apparently needs to work a little harder on controlling her urges…
The woman, Carmen Tisch, was arrested on December 29th after she wandered into the brand new Clyfford Still Museum and attacked one of Still's iconic works. Tisch set her sights on Still's "1957-J-No. 2," a work that is worth $30 million. She punched it, scratched it, and then decided it was time to really go after it; She let down her pants and began trying to pee on it. Fortunately she was stopped before she could actually really urinate on the work of art. However, the damage done was still estimated to cost about $10,000.
How foolish. We all know better than to pee on a $30 million abstract-expressionist painting. As much as we want to, the rest of us are smart enough to save that stuff for the neo-romanticism museums. Am I right? Idealize this natural work, you neo-romantic losers!
Watch a news report on Tisch from Colorado's KUSA below:
(h/t Drudge Report)
Have a tip we should know? tips@mediaite.com