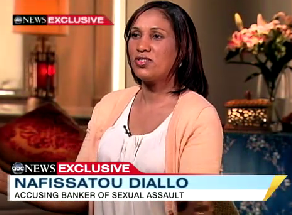 In her first television interview, the hotel maid who accused former IMF chief Dominique Strauss-Kahn of trying to sexually assault her has spoken to Good Morning America's Robin Roberts. In the exclusive, Nafissatou Diallo recounts what she says happened in the hotel room at the center of the scandal, and tells Roberts she wants justice. "I want him to go to jail." The interview, which aired first on GMA this morning and will continue on ABC World News and Nightline, was one of two interviews Diallo agreed to–the other was with Newsweek, in a cover story that hits newsstands today. "I want him to know that there is some places you cannot use your money, you cannot use your power when you do something like this," she said on ABC.
ABC says there were no restrictions–nor compensation given–for the interview, which was an attempt by Diallo to put a face on her story:
Diallo acknowledged "mistakes" but also said they should not preclude Vance's office from going forward.

"God is my witness I'm telling the truth. From my heart. God Knows that. And he knows that," she said.

The woman whose accusations upended the politics of France and the workings of one of the world's most prominent banking institutions was unequivocal in her assertion that Strauss-Kahn attacked her inside room 2806 at the Sofitel Hotel. She reenacted moments of the alleged assault, at one point kneeling on the floor to describe how she says Strauss-Kahn tried to force her to commit a sex act.

"I never want to be in public but I have no choice," Diallo told ABC News, adding "Now, I have to be in public. I have to, for myself. I have to tell the truth."
Lawyers for Strauss-Kahn insist the sex was consensual, and point to significant credibility questions regarding Diallo–questions that have pushed District Attorney Cyrus Vance to consider dropping criminal charges in the case. DSK laywers call the Diallo interviews a "circus" with a clear motive. "Its obvious purpose is to inflame public opinion against a defendant in a pending criminal case," William Taylor and Benjamin Brafman wrote in a statement.
Watch it here, from ABC News:
Have a tip we should know? [email protected]