D'Souza, Michael Eric Dyson Clash over MLK: Shouldn't Be 'Demonized' for Questioning U.S.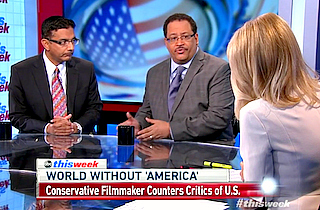 Filmmaker Dinesh D'Souza, who recently pled guilty to a campaign finance charge, appeared on This Week with George Stephanopoulos to discuss his new film, and claimed that reform movements in America, in which he included Martin Luther King Jr., were conservative efforts that harkened back to the nation's founding.
Dyson didn't disagree that King was connected to the "larger American compact," but argued that D'Souza was being selective and disingenuous in claiming MLK for conservatives, especially given the conservative movement's resistance to King and his followers.
"It's not progressives that has made that claim but people on the right," he said. "Those who are critics of America don't hate the nation, they love the nation. They want to love it into a better future. Martin Luther King Jr. said before he was murdered, 'America, be true to what you said on paper.' If the litmus test of authentic patriotism is the commitment to an ideal and a goal that furthers the conversation about all people participating equally, then that's the kind of conversation we have. He shouldn't be demonized, nor should those who are successors to him be demonized for their questioning."
RELATED: Megyn Kelly Laughs at Dinesh D'Souza: So You're Saying America Is a 'Child Molester'?
D'Souza also quickly unspooled his theory linking Hillary Clinton to Barack Obama via Saul Alinsky. "We're not inventing a connection between them," he said. "The connection is well documented."
"In terms of his impact on Obama and Hillary Clinton, I'm sure the Alinskyites would say it's barely discernible now in their political lives," Dyson countered.
Watch the clip below, via ABC News:
[Image via screengrab]
——
>> Follow Evan McMurry (@evanmcmurry) on Twitter
Have a tip we should know? [email protected]