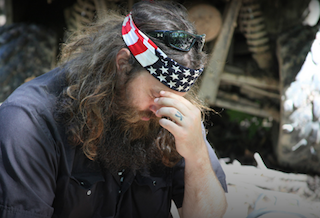 During the last few weeks of the year, when it seemed all anyone in the media was talking about was Duck Dynasty patriarch Phil Robertson's controversial comments about homosexual sex, the general consensus was that if the show remained on A&E as scheduled its ratings would skyrocket thanks to the massive exposure. The only question was how big the bump would be. But when the show returned with its fifth season premiere last night, and actually saw its ratings go down.
As Entertainment Weekly reports, Wednesday night's premiere drew a respectable 8.5 million viewers, far more than most prime time network shows do this day and age. But, it was a 28% drop compared to the show's fourth season premiere in August of last year, which drew 11.8 million viewers. Last night's total was more on par, though still lower, than the third season premiere in February 2013, which had 8.6 million.
For anyone who chose to avoid the news entirely last month, A&E "suspended" Robertson for his remarks to a reporter from GQ before ultimately reversing their decision and moving forward with the show as scheduled when it became clear that the rest of the Robertson family would not participate in the reality show without Phil.
Advertisers threatened to abandon the show, but it was generally assumed that its loyal viewers would stick around and perhaps others curious about what all the fuss was about would come on board. So far, it looks like those assumptions were false.
[photo via A&E]
— —
>> Follow Matt Wilstein (@TheMattWilstein) on Twitter
Have a tip we should know? tips@mediaite.com