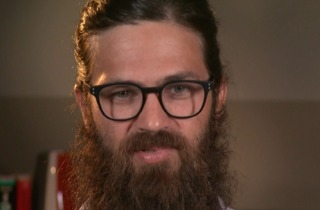 Jep Robertson, the youngest member of the Duck Dynasty clan, went on Entertainment Tonight on Monday in order to promote his new book: The Good, the Bad, and the Grace of God: What Honesty and Pain Taught Us About Faith, Family, and Forgiveness. Robertson wrote the book alongside his wife in order to chronicle some of his life's most significant moments and struggles, including when he was sexually molested at the age of 6.
Robertson recounted how an older girl, who he assumed was experiencing abuse herself, would always sit next to him on the school bus. Robertson remembered the girl as "being sweet and taking care of me," until a lot of "scary stuff" took place.
"After a while the girl started doing strange things," Robertson said. "She'd take my hands and push them up under her shirt and tell me I was tickling her. Then she started making me pull down my pants. It was awkward. I didn't know what was going on, but I knew something wasn't right."
Robertson says he kept the event a secret, but attributed it to his fear of girls during his adolescence, as well as playing a part in his truancy and his experience with drugs and alcohol. Robertson said it was a family intervention and discussions with his wife, Jessica, that enabled him to move on. "I was more embarrassed… It was just one of those things that happened, and I think it took me a long time to realize what had happened and how it affected me."
Robertson's revelation comes following the controversy surrounding the Duggars, who have come under media scrutiny after Josh Duggar admitted to molesting five girls, including his sisters. Robertson said that he and his wife don't know the Duggar family or "what's in [Josh's] heart," but offered advice to the star family of 19 Kids and Counting.
"At some point I think you got to get a tough skin and no matter what anybody says about you, you just got to be like, 'We're just going to keep doing what we do.'"
You can watch the Robertson's admission here, via Entertainment Tonight:
[h/t ABC News]
[Image via Screengrab]
— —
>> Follow Ken Meyer (@KenMeyer91) on Twitter
Have a tip we should know? [email protected]