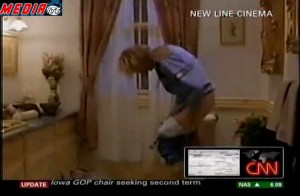 Seriously, CNN? Seriously?
Imagine being a CNN producer. You've got an upcoming medical segment on an unusual treatment for a man's digestive disease. An illness, that CNN anchor Ali Velshi will tell you in the story's intro, involves "ten to fifteen bloody bowel movements a day."
Already, we're clearly in comedic territory, right? After all, what's funnier than ulcerative colitis, an inflammatory bowel disease? Just you wait!

Well, in this case, since it involves the schoolyard comedy gold mine that is digestion, somebody at CNN figured it'd be a downright hoot to start the segment with a clip from the film Dumb and Dumber, showing Jeff Daniels graphically suffering from a sudden bout of diarrhea. And naturally, we'll make sure you can hear the hilarious sounds of bowl-filling.
Good stuff. Then we can get right to the story, which is funny itself, as CNN's web version of the story makes clear:
Diagnosed with ulcerative colitis, nothing helped except high doses of steroids, which because of severe side effects, he could take only for limited periods of time. Soon, the patient became so sick he had to quit his job.

His gastroenterologist wanted to admit him to the hospital for an intravenous round of cyclosporine, a potentially helpful yet dangerous medicine that depresses the body's immune system and can increase the risk for getting cancer later in life.
Laff riot.
After airing the clip, Velshi asked–mock seriously–"we didn't just air that on live TV, did we?"
You sure did.
Have a tip we should know? tips@mediaite.com