During Heated Interview, Sharpton Explodes on GOP Rep. Over Shutdown: 'You're in Denial!'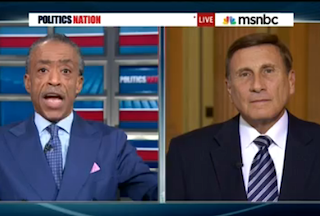 MSNBC's Al Sharpton got in a heated debate with Rep. John Mica (R-FL) Friday afternoon over who is to blame for the government shutdown. The two men spent most of the interview talking past each other, with Sharpton yelling, "You're in denial! You shut the government down!"
After debating the deficit under President Obama, Sharpton asked Mica, "When in the history of this country have we ever had a shutdown over a law?" The host rejected the idea that this shutdown is similar to the one that occurred in 1995, with Mica fighting back by saying it is similar, but worse.
When Mica started trashing certain aspects of the Affordable Care Act, Sharpton shot back, "in all due respect, the debate is over. They passed the law." They went through detours about President George W. Bush's vacation days, President Obama's golf outings and the impact of the shutdown on Florida's preschoolers without making getting any closer to any kind of agreement on anything.
But it was when Mica told Sharpton to "get with it" that things really went off the rails. "Congressman, are you in denial?" Sharpton asked. "You've shut the government down. You're talking like the government is up. You're talking about what you would do or not do. You've shut the government down! You get with it!"
As the congressman kept right on talking, Sharpton screamed, "You're in denial!" before cutting off the segment.
Watch video below, via MSNBC:
Visit NBCNews.com for breaking news, world news, and news about the economy
[photo via screengrab]
— —
>> Follow Matt Wilstein (@TheMattWilstein) on Twitter
Have a tip we should know? tips@mediaite.com