Matthews Attacks Wasserman Schultz For Not Defending Obama On Bain: 'Where Have You Been?'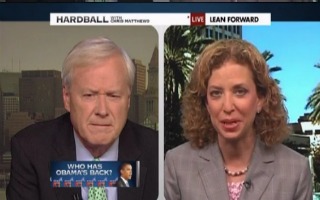 Amid a difficult week for President Barack Obama with his campaign under regular attack from allies and surrogates regarding the appropriateness of attacking Bain Capital, MSNBC host Chris Matthews went after Democratic National Committee Chair Rep. Debbie Wasserman Schultz on Tuesday. "Where have you been," asked Matthews. He further inquired why Obama seems to be on his own and when Wasserman Schultz listed the many Obama campaign surrogates who were actively campaigning for the President, Matthews replied "I don't see it."

RELATED: Chris Matthews' Fiery Rant Against Cory Booker For 'Sabotage' On Obama's Bain Strategy
"We haven't seen much of you lately, where have you been the last couple months," asked Matthews.
Wasserman Schultz said that she had to take some time away from the cameras and was "being a mom."
"We've been missing you," said Matthews. He played a clip of Vice President Joe Biden on the stump in New Hampshire on Tuesday attacking Mitt Romney's reasoning behind his presidential bid.
Biden repeatedly said that examining Romney's record at Bain Capital was "legitimate," but making money for investors – as Romney did – is not the president's job.
Matthews asked Wasserman Schultz why the whole Obama Cabinet as well as members of Congress were not spending as much time campaigning for President Obama as Biden did on Tuesday. Matthews said that the President is campaigning as a "solo act" and is facing "saboteurs" – referencing Newark Mayor and Obama campaign surrogate Cory Booker who criticized attacks on Bain.
"We're fortunate that we actually have a very broad and deep surrogate operation," said Wasserman Schultz.
"Who are they," asked Matthews. Before she could respond, Matthews followed up "but I don't hear them. Which Cabinet members? Which members of the Cabinet are out there speaking politically and for the President and his reelection?"
"Secretary [Kathleen] Sebelius is one of those Cabinet members," said Wasserman Schultz. She clarified that many political appointees are restricted and unable to campaign for the President's reelection effort. She did list several members of the administration who are actively supporting Obama's reelection effort.
"We have a number of widespread, outside surrogates like Ted Strickland for example, former governor of Ohio" Wasserman Schultz went on. "[Former Pennsylvania Gov. Ed] Rendell is certainly a surrogate for us. Myself. A broad range of members of Congress. Congresswoman Donna Edwards. There are a broad range of surrogates for us and they've been out there repeatedly."
"You know, I don't see it," said Matthews.
"I'm not sure how you're not seeing them," Wasserman Schultz prodded.
"I watch a lot of television Congresswoman, and I gotta tell you it looks like a solo act," Matthews continued. He said that Obama appeared alone when he was confronted by "mutineers" who questioned whether attacking Romney's record with Bain was appropriate. "I didn't hear anybody jumping to his defense. Did you," Matthews asked.
Watch the segment below via MSNBC:
Have a tip we should know? tips@mediaite.com