Dutch TV Anchor To Rachel Maddow: The Dutch Are Furious At Santorum Over Euthanasia Claim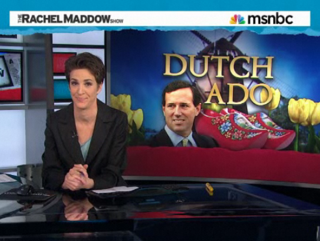 Rick Santorum has spent a good part of the week fighting the good fight against euthanasia, Rachel Maddow reported last night, but his statistics on what some other countries do have caused an international incident. It turns out that Santorum has been saying that 10% of all deaths in the Netherlands are involuntary euthanasia, and that "old people in the Netherlands don't go to the hospital" for fear of being killed. Turns out the Dutch aren't huge fans of being branded a culture of murder.
RELATED: Rick Santorum: 'Mitt Romney Is In Bed With Barack Obama On Destroying' Churches And Hospitals
The comments that started it all came about at an event earlier in the week, where Santorum argued that, in the Netherlands, "people wear different bracelets when they are elderly, ones that say 'don't euthanize me.'" He argued that because "they have voluntary euthanasia in the Netherlands… half of those people are euthanized involuntarily at hospitals because they are older and sick," and that older people don't even go to hospitals for fear they will be killed. He claimed 10% of Dutch deaths came about via euthanasia.
Maddow explained that the opposition party in the Netherlands was now calling for their ambassador and Foreign Minister to condemn Santorum, though they have decided to ignore him. This came about as a shock to her because "it is one thing for Americans to look at the 2012 Republican field and say 'this can't be real,' but now we have the rest of the world looking at our candidates and saying 'Dude, this can't be real.'"
One of those Dutch people saying "this can't be real," RTL News anchor Erik Mouthaan, ran through the list of claims Santorum made, in order: "totally not true," "not true," "not true and insulting," "not true and funny," and "would be cool, but no." He noted that most of the time, the Dutch don't object to American criticism from the media because of their national politics. "We're used to being the punching bags of conservatives in the United States because… we have the most liberal politics ever," he said, joking to Maddow, "if your viewers started a country, it would be Holland." The difference between normal criticism and Santorum's to Mouthaan was that "it's just not true."
Maddow ended the segment with some words of comfort: "If it makes you feel better, there are a lot of things Rick Santorum says that people don't respond to because they assume he is going to go away."
The segment via MSNBC below:

Have a tip we should know? tips@mediaite.com