Dylan Ratigan Hosts "30 Million Jobs Tour" From Glamorous Miami Beach 5-Star-Resort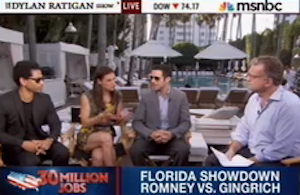 Looking at the screen without the sound on, one might think that MSNBC's Dylan Ratigan had brought back Lifestyles of the Rich and Famous live from South Beach, with the requisite beach chairs, mai tais and bikini clad women strolling in the background. No, this was The Dylan Ratigan Show, hosting on the road as part of its "30 Million Jobs Tour."  That's right, Ratigan is offering solutions to bring more jobs to America live from one of the most expensive and exclusive resorts in the country, the five-star Delano Hotel. Ratigan even thanked the hotel at the end of the program which bills itself as  a "world-class urban resort and self-contained destination, a haven of relaxation."  Also available on site is a full-service spa and spa services with, of course, hot stone massage. This, as Ratigan promotes his tome "Greedy Bastards" — a book, about rapacious banks ripping off the common man.
He opened his program saying: "You see poverty, despair, service jobs or no jobs, you come here, and it's the globalization of Miami Beach," Huh? All I saw was Ratigan, sprawled out with guests Krystal Ball, Ari Melber and Touré clad in shades from Persol.
RELATED: Dylan Ratigan To AnimalNY Blog: Occupy Wall Street Has 'An Opportunity To Transcend Politics'
Continuing their theme of helping out the average Joe, pinched by economic hardships, Touré, pictured here was kicking back by the pool with film star Mickey Rourke. While Rourke did go through a period where he too was looking for work, it seems since The Wrestler, those days are in the past.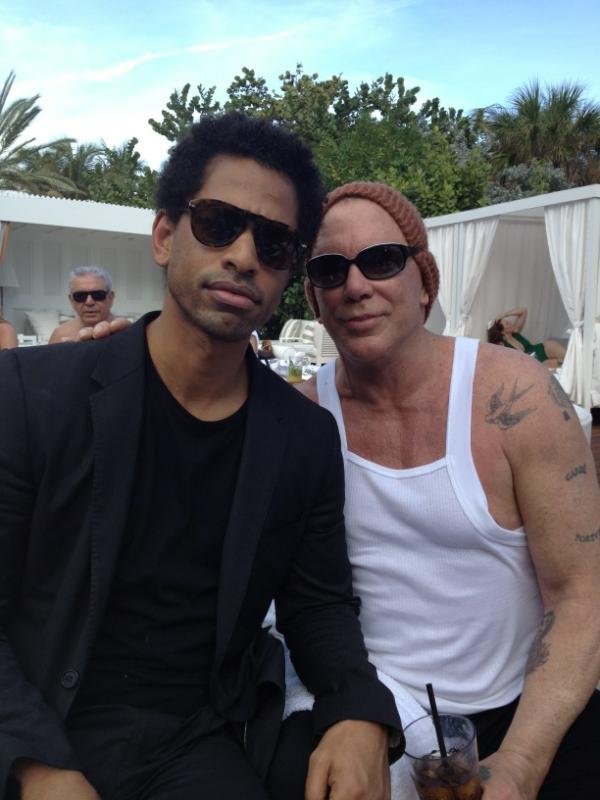 Just last October, Ratigan cast himself as an everyman when he visited the Occupy Wall Street protests at Zuccotti Park.
"We are at a moment where it is just 'us.' We are just one enormous group of people, not in this square, but in this planet and in this country!" Ratigan exclaimed. "All of us are Tea Partiers on some level, all of us are occupiers, all of us are that intention which is the frustration with the world that lacks fairness."
I am sure those people were welcome to join in to sit poolside, sipping a mixture of light rum, creme de almond and triple sec from a krazystraw.
Watch 3 clips of Dylan and his entourage celebrating the life of luxury below:

Have a tip we should know? tips@mediaite.com