Dyson, Marcus Clash over Obama's Role in Ferguson: 'I'm Talking About Leadership'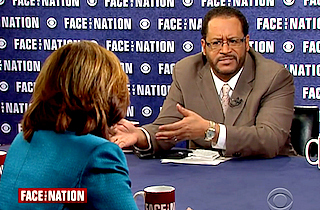 Following Michael Eric Dyson's call on Face the Nation Sunday morning for President Barack Obama to speak more forcefully on the situation in Ferguson, Washington Post columnist Ruth Marcus argued that the Obama administration's actions had actually been helpful and effective, causing Dyson to wonder why Obama was not capable of doing both.
"I think the president has actually struck a very good, balanced tone here," Marcus said. "Because he is at the head of a criminal investigation he doesn't want to go too far overstepping the bounds there, while he wants to make sure that he calms the waters."
"What I'm talking about is leadership; that's not simply a matter of tone," Dyson replied. "The president has a responsibility to say — this is one of the key points we expect because of [Obama's] unique experience — 'As an African American male I know what it means to not have an autopsy report released; I know what it means to have a young man besmirched posthumously with no relationship that we can tell between what that was about on that camera and how he died."
"I guess the facts of what they're doing, the FBI agents, the investigation, second autopsy, speak even more loudly than anything he might be able to say," Marcus said.
"It's not either/or. …You can deploy political strategies and public policy, but at the same time we need his leadership, his vision, his unique style," Dyson said. "Defend those vulnerable populations, especially to white people whose white privilege in one sense obscures from them what it means that their children can walk home every day and be safe."
Watch the clip below, via CBS News:
[Image via screengrab]
——
>> Follow Evan McMurry (@evanmcmurry) on Twitter
Have a tip we should know? tips@mediaite.com