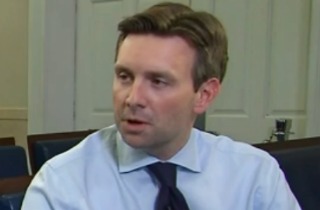 President Obama has previously asserted his administration is the "most transparent" in history, a line that's invited much ridicule, even from the press corps. So when White House Press Secretary Josh Earnest brought up that line on CNN yesterday, Brian Stelter challenged him on why they keep insist on using it.
Just last week, a few dozen press organizations co-signed a letter calling for more transparency and decrying the "politically driven suppression of news and information about federal agencies." Despite this, Earnest insisted Obama has a great transparency record, and these groups are only complaining because it's their job to keep pushing.
When he brought up the "most transparent" line, Earnest explained that "absolutely" it's the truth, touting two examples: quarterly reports this White House puts online that the previous White House didn't want released, and press access to presidential fundraisers at private homes.
There is, however, one little issue of transparency Earnest glossed over: the inability of reporters to speak to people working in federal agencies. In fact, Buzzfeed's DC bureau chief John Stanton went on a bit of a rant over the weekend concerning this very issue.
Hey flacks, ignoring me is the wrong thing to do when I come calling. makes me hate you and convinces me you have something to hide

— john r stanton (@dcbigjohn) July 12, 2014
Hey @HHSGov you need to teach your flacks that I'm not the guy to ignore. Grindin my last goddamn nerve right now

— john r stanton (@dcbigjohn) July 12, 2014
Listen @PressSec if you want me to blow y'all up with no goddamn comment, keep letting @HHSGov act like fascist morons. Clock is ticking

— john r stanton (@dcbigjohn) July 12, 2014
17 years as a reporter, three administrations worth of flacks, and I can say with authority this one is the most difficult to deal with

— john r stanton (@dcbigjohn) July 12, 2014
Remember when Sen Obama was all for transparency? Good times

— john r stanton (@dcbigjohn) July 12, 2014
Watch the clip here, via CNN:
[image via screengrab]
— —
Follow Josh Feldman on Twitter: @feldmaniac
Have a tip we should know? tips@mediaite.com
Josh Feldman - Senior Editor