Earnest: GOP Candidates Not Denouncing Trump Because They Want 'Those Same Votes'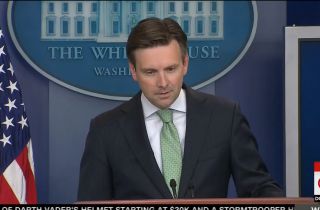 White House Press Secretary Josh Earnest blasted Donald Trump and his fellow Republican presidential candidates on Friday — the former for refusing to correct a man who said President Barack Obama is a Muslim who was not born in the U.S., and the latter for not condemning Trump.
While Trump was taking questions from the audience on Thursday night, one of his supporters said, "We have a problem in this country called Muslims. We know our current president is one. You know he's not even an American." He then asked about how Trump would do away with "training camps growing where they want to kill us." The GOP frontrunner, who was one of the loudest voices doubting whether Obama was born in this country, did not correct the man on either count, and instead gave a noncommittal response.
"We're going to be looking at a lot of different things, and you know, a lot of people are saying that and a lot of people are saying that bad things are happening and we're going to be looking at that and plenty of other things," Trump said.
Earnest said the other GOP candidates are refusing to condemn The Donald's "cynical strategy" because they are "looking for those same votes." (New Jersey Gov. Chris Christie said he would have corrected anyone who questions the president's faith and citizenship.)
"Other Republicans have successfully used this strategy as well," Earnest said, referring to House Majority Whip Steve Scalise's self-description from years ago when he called himself, "David Duke without the baggage." But Earnest was not finished there, listing off examples of congressional Republicans acting contrary to President Obama's legislative initiatives.
–RELATED: Anderson Cooper Trashes Trump: Didn't Have 'Guts' to Rebuke Anti-Muslim 'Loudmouth'
"Those same members of Congress blocked immigration reform," he added. "Those same members of Congress oppose re-authorization of the Voting Rights Act. Those same members of Congress couldn't support a simple funding bill because they're eager to defend the Confederate flag.
"So those are the priorities of today's Republican Party, and they'll continue to be until someone in the Republican Party decides to summon the courage to stand up and change it."
Asked if Trump should apologize to Obama, Earnest said he does not think Trump is interested in his advice. Trump has given no indication that he will apologize, but his campaign responded to the controversy late Thursday night, saying that the media was misrepresenting the issue and that Trump "was referring to the need to protect Christians' religious liberties as his previous statement says and nothing more."
Democratic frontrunner Hillary Clinton was also asked about the incident on Friday, and said at a New Hampshire press conference that Trump encourages "hateful rhetoric." Sen. Bernie Sanders (I-VT) called it a "disgrace."
Watch the video below, via CNN:
[Image via screengrab]
— —
>>Follow Andrew Desiderio (@desiderioDC) on Twitter
Have a tip we should know? [email protected]