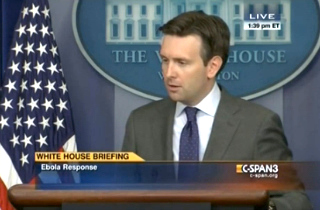 While tempering concerns about preparedness for a possible Ebola outbreak in the United States, White House Press Secretary Josh Earnest conceded Thursday that more cases are likely to come.
In a moment first spotted by RCP Video, NBC News correspondent Chris Jansing asked Earnest whether the White House, as part of its preparedness, has any projections on how many people might come down with the infectious disease stateside.
"I don't know the answer to that," Earnest replied. "Projections are less important because the risk of a widespread outbreak of Ebola in the United States is exceedingly low. We don't anticipate that's going to happen. What we do anticipate is certainly possible maybe even likely is that some additional cases of Ebola will occur."
He continued: "It is possible, again, maybe even likely that there will be additional healthcare workers from this hospital in Dallas who treated Mr. Duncan who may contract — may have contracted the virus. So that's why we are actively monitoring the health of other healthcare workers that came in contact with him."
Earnest concluded:
It certainly is possible that other individuals will travel to this country that don't exhibit symptoms in transit but after they arrive may have the virus. We will make sure that we have the kind of response that's needed to as the president directed yesterday to detect, isolate and treat those individuals in a way that protects the American public and protects healthcare workers rendering that medical assistance.
Watch below, via C-SPAN3:
[h/t RealClearPolitics]
Have a tip we should know? [email protected]