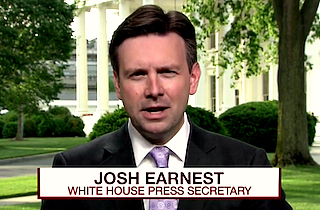 White House Press Secretary Josh Earnest appeared on Morning Joe Wednesday morning to defend President Barack Obama against accusations that he was being sexist toward Senator Elizabeth Warren (D-WA), in part by referring to her by her first name.
"I can give you all the references the president referring to his former colleagues senate by his first name," Earnest said. "Senator Warren used to work for the president here in the administration. The president has a personal relationship with Senator Warren, it's not surprising he would call her by her first name."
Warren and Obama have been sparring over proposed fast track authority for trade legislation, which Democratic Senators filibustered yesterday in a rebuke to the White House.
Senator Sherrod Brown (D-OH) first said Tuesday afternoon that Obama had been "disrespectful" toward Warren, saying Obama would not have called her by her first name had she been a male senator. The National Organization of Women then explicitly called Obama's treatment of Warren sexist.
"As somebody who gets paid to talk in public for a living, I try to be slow to criticize people who say things in public that are so inconsistent with their reputation and with their character," Earnest said. "Senator Brown is somebody that has a good relationship with the president. They've worked effectively on a range of issues, including nominating and confirming the first woman to be the chair of the Federal Reserve."
"Senator Brown is a stand-up guy," Earnest sadded. "I'm confident that after he's had a chance to look at the comments he made yesterday that he'll find a way to apologize."
Host Joe Scarborough seemed a little confused by the charge. "Is that all it was about?" he asked. "Because he called her by her first name, he's sexist?"
Watch the clip and delete your account below, via MSNBC:
[Image via screengrab]
——
>> Follow Evan McMurry (@evanmcmurry) on Twitter
Have a tip we should know? tips@mediaite.com