Earnest Ties Indiana Bill to Obama's Selma Speech: 'Important to Stand Up' Against Discrimination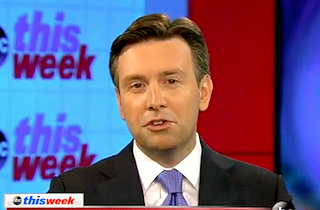 On This Week Sunday morning, White House Press Secretary Josh Earnest said Indiana Governor Mike Pence (R) was in "damage control" over the passage of bill critics say would allow businesses to discriminate against gays and lesbians. Pence had just been grilled by host George Stephanopoulos and refused to answer whether the bill had discriminatory functions.
"This isn't a political argument," Earnest said. "We've seen business leaders across the country say that they're reluctant to do business in Indiana…because this law could make it more likely that the customers of those businesses and that the employees of these businesses are more likely to be discriminated against."
Earnest dodged a question about whether President Barack Obama supported the potential boycotts of various Indiana events like the NCAA finals, but did tie Obama's position back to his remarks at the 50th anniversary of the March on Selma three weeks ago.
"The president talked about…the fact that government leaders have a responsibility to support our citizens who are fighting for greater equality and justice and fairness," Earnest said. "When you have a law like this one in Indiana that seems to legitimize discrimination, it's important to stand up and speak out."
Pence had noted that Obama had signed a bill similar to it while in the Illinois legislature and that President Bill Clinton had signed a similar bill into federal law in 1993. "If you have to go back two decades to try to justify something you're doing today," Earnest replied. "It may raise some questions about the wisdom of what you're doing."
Watch the clip below, via ABC News:
[Image via screengrab]
——
>> Follow Evan McMurry (@evanmcmurry) on Twitter
Have a tip we should know? tips@mediaite.com