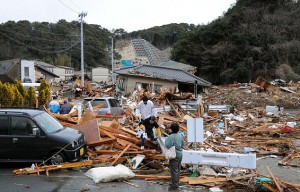 Just a few hours ago, Japan was hit with an 8.9 magnitude earthquake, one of the largest in the country's recorded history. It struck the northeast coast at 2:46 pm local time (12:46 am EST). 250 miles away in Tokyo, the BBC's Roland Buerk reported that being on the street was like "walking across the deck of a ship at sea." Soon after, the earthquake caused a deadly tsunami that is affecting areas as widespread as Russia and the western coasts of North and South America. Below are some of the many reports from the destruction. (IMPORTANT UPDATE AT BOTTOM)
UPDATE: The post originally quoted from a Kyodo news report that 88,000 people were missing. It is now appearing that the number might be much, much smaller and that that number may have in fact come from a typo or mistranslation. Some news outlets are still using 88,000, but we've taken that figure out of this post and any other post and will await a more certain tally.
At this point, the world can mostly await the damage reports and prepare relief for the areas affected.
(photo from AP Photo/Kyodo News via The Daily Mail)
Have a tip we should know? tips@mediaite.com