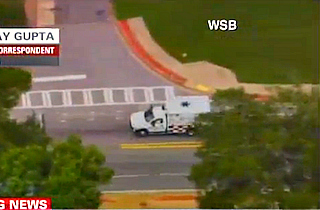 An American doctor who contracted the Ebola virus while treating it in Liberia arrived in Atlanta Saturday morning for treatment at a specially-outfitted facility at Emory University Hospital, with a second patient due to follow. It is the first instance of the Ebola virus to hit American soil.
The two Americans, Dr. Kent Brantly and Nancy Writebol, were treating patients stricken in an Ebola outbreak in West Africa when they contracted the disease themselves. The outbreak has infected over 1,300 people and claimed over 700 lives so far, and officials for the World Health Organization fear it could get much worse.
The Emory facility was built in conjunction with the Center for Disease Control and Prevention specifically to handle virulent, infectious diseases. The plane and ambulance from the airport were specially outfitted with tents to isolate the virus, and medical personnel at Emory will wear protective suits when entering isolation rooms.
This is all despite the strident objections of "Fox military analyst" Donald Trump:
Stop the EBOLA patients from entering the U.S. Treat them, at the highest level, over there. THE UNITED STATES HAS ENOUGH PROBLEMS!

— Donald J. Trump (@realDonaldTrump) August 1, 2014
The U.S. cannot allow EBOLA infected people back. People that go to far away places to help out are great-but must suffer the consequences!

— Donald J. Trump (@realDonaldTrump) August 2, 2014
The U.S. must immediately stop all flights from EBOLA infected countries or the plague will start and spread inside our "borders." Act fast!

— Donald J. Trump (@realDonaldTrump) August 2, 2014
Watch CNN's Sanjay Gupta on the developments below:
[h/t Los Angeles Times / Raw Story]
[Image via screengrab]
——
>> Follow Evan McMurry (@evanmcmurry) on Twitter
Have a tip we should know? [email protected]