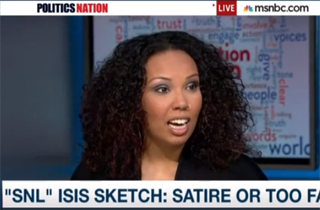 The fallout from Saturday Night Live's ISIS car commercial sketch includes criticisms such as its offensiveness, its tastelessness, and its potential to provoke retaliation from the terrorist group.
But during a segment on Al Sharpton's PoliticsNation, Jamilah Lemieux, senior digital editor at Ebony magazine, thought that the sketch would lead ISIS to target Americans more broadly, like herself.
"I didn't think it was funny, that's my personal opinion," Lemiuex argued in the clip flagged by NewsBusters. "What's good taste and bad taste can be debated, but I think about this: Is the risk worth it?"
And what is the risk, one might ask?
My office is a block away from here on the other side of Rockefeller Center, so if somebody wants to retaliate for this, because we know that this is an organization and a group of people that are so committed to what they believe, and so against the idea of this freedom of speech that they punish us for doing things that we take for granted. I don't want to be sitting in the Ebony offices and lose my life because somebody thought it was funny to play fast and loose with ISIS.
The rest of the panel defended SNL's right to mock terrorists, and the debate, as well as the rest of Lemieux's views, could have carried on for a while — that is, until Sharpton interrupted them with a scary skydiving video.
Watch below via MSNBC:
[Image via MSNBC/screenshot]
—
>> Follow Tina Nguyen (@Tina_Nguyen) on Twitter
Have a tip we should know? tips@mediaite.com