Echo Chamber: Gingrich Responds To Romney's Response To Gingrich's Assertion That Romney Is Weak Frontrunner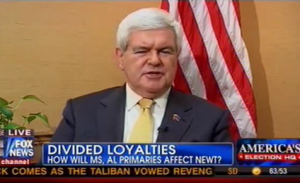 Two days ago on Fox News Sunday, Newt Gingrich called Mitt Romney the weakest Republican presidential frontrunner in almost a century. Yesterday on Fox & Friends, Romney responded by asking if he's a weak frontrunner, what does that make Gingrich? So today, also on Fox & Friends, Gingrich responded to Romney's response to Gingrich's response to Romney's frontrunner status. And they say TV is an echo chamber…
RELATED: Newt Gingrich To Chris Wallace: Mitt Romney Is The Weakest Frontrunner We've Had Since 1920
Gingrich touted his strength in the South over the next wave of primaries, and admitted he was a little surprised at how well Romney is doing in polls in both Mississippi and Alabama leading up to tonight's primaries. Then Gingrich was asked to respond to Romney's response from yesterday, where Romney also went after both Gingrich and Rick Santorum for being Washington insiders. Gingrich said that thanks to all of Romney's "negative money," the rest of the candidates, himself included, have had a difficult time getting their message out. And as for Romney attacking Gingrich for being a Washington insider, Gingrich argued that Romney has more support from lobbyists, Washington insiders, and people on Wall Street than any other candidate.
Gingrich then laid out a scenario where Romney might be ahead by the time the primaries are over, but doesn't have enough to win the nomination and the nominee could end up being someone else.
"I think what's going to happen is he'll have the most delegates, not a majority. I think when we're done with this… we're going to have a 60-day discussion, and people are going to have to look at who could really beat Barack Obama, and I think that'll be a very, it'll be historically for you guys, the most interesting possible process leading up to a real convention."
RELATED: Mitt Romney Responds To Gingrich: 'If I'm A Weak Frontrunner, What Does That Make' Him?
Watch the full interview below, courtesy of Fox News:
Have a tip we should know? tips@mediaite.com
Josh Feldman - Senior Editor