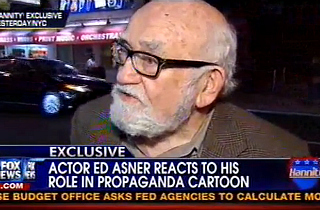 As we reported earlier today, a cartoon from the California Federation of Teachers has stirred some controversy, not for its scathing critique of income disparity in America, but for a particular scene in which a wealthy man urinates on poor people below him. Actor Ed Asner narrated the video, and so a producer for Fox News' Hannity confronted him.
RELATED: O'Reilly Factor's Crack Ambush Reporter's Shocking Discovery: 'Punk' Teenagers Not Political Experts
Suffice it to say, the interaction did not go well.

Before showing the confrontation, host Sean Hannity explained that Asner is a "radical left-wing Hollywood actor" who needed to be asked about his role in a "disgusting hit piece" on wealthy Americans.
The actual confrontation went like this:
The Fox producer asked Asner: "Do you remember the video? Do you know what I'm talking about?"
"I don't remember a thing I said on it or a word I said on it," Asner replied, "but I agreed to do it for California teachers. I approve this message."
"There's a part of it where talking about things trickling down and they have like rich people peeing on poor people," the producer explained further.
"How disgusting," Asner said. "It should be reversed."
"So you don't remember that?" the producer asked.
"Do you have any money?" Asner asked with a smirk.
"Yeah."
"Can I piss on you?" asked the actor.
And… end scene.
"Pretty classy, Mr. Asner," Hannity concluded back in studio. "I guess it's true there's really no business like show business."
Watch below, via Fox:

— —
>>
Follow Andrew Kirell (@AndrewKirell) on Twitter
Have a tip we should know? tips@mediaite.com