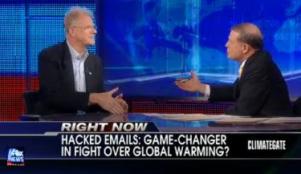 Activist and environmentalist Ed Begley, Jr. was on Fox News' Your World yesterday, chatting with guest host Stuart Varney about the global warming leaked emails currently being dubbed "Climategate" (of course).
And it didn't take long before each were shouting their points of views.
First, some background: the New York Times, which broke the story earlier this week, writes about the "thousands of e-mails and documents" that came from the Climate Research Unit at the University of East Anglia that have come to light, causing more arguments about the truth behind global warming:
Some of the e-mails and files are impolite, revealing deep grudges between scientists and skeptics. Others are mundane announcements of upcoming conferences or research trips.

But by the end of last week, climate skeptics were busy posting and analyzing CRU e-mails and files they say justify their objections to mainstream climate science, including the idea that humans are driving global warming.
"Do you ever think that maybe you're wrong about global warming?" asked Varney, which Begley very strongly did not. "You can be skeptical but not deniable," he said.
When Varney started talking about the government 'coming into our homes' when it comes to environmental regulations, Begley started to get worked up. "Stop this scare tactic!" he said. Also, this exchange:
Begley: You're spewing your nonsense here yet again. The air in LA is twice as clean as it was in 1970, why? Because of good technology.
Varney: That's got nothing to do with global warming.
Begley: It has everything to do with good science.
Earlier in the interview, Begley invoked the name of another Fox News host. "Go to somebody you trust, National Geographic," he said. "Don't get it from you or me, Don't get it from Rush Limbaugh or Glenn Beck."
Beck, for his part, spent a portion of his show Monday discussing Climategate, saying, "If your gut said wait a minute this glob warming thing it sounds like a scam, well I think you're seeing it now." Today, Pres. Obama announced he will travel to Copenhagen for next month's climate summit – a decision sure to keep the climate debate strong.
For another completely different look at Climategate, check out this YouTube JibJab-like video on the leaked emails and what they may mean.
Here's the fiery interview:

—–
» Follow Steve Krakauer on Twitter
Have a tip we should know? tips@mediaite.com