Fox's Ed Henry Tells Imus About His 'Chilly' Relationship With President Obama
Ed Henry Tells Imus About His 'Chilly' Relationship With President Obama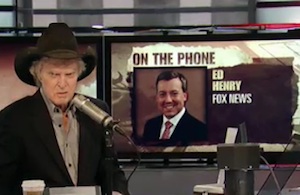 Thursday morning on Fox Business Network, White House reporter Ed Henry spoke with Don Imus about his heated exchange with President Obama during his press conference Tuesday. "I think my relationship with the President has gotten so chilly, that it's almost reached the level of what it's like when you go to Cavuto's house for a summer cookout," Henry snarked.
"The President is gonna answer how he wants to answer," Henry acknowledged.
Henry thought that had President Bush had answered the question the same way, the mainstream media would've ridiculed him for being so touchy.
"Liberals would be kind of like cheering it on and saying, 'Boy, did you see how thin skinned President Bush is? He never answers your question,'" Henry exclaimed. "Same thing happens with President Obama and they say the opposite, so it's kind of interesting."
Henry contentiously asked the president about gas prices on Tuesday. "Your critics will say on Capitol Hill that you want gas prices to go higher, because you have said before that will wean the American people off fossil fuels onto renewable fuels. How do you respond to that?"
Obama quipped, "Ed, just from a political perspective, do you think the President of the United States going into re-election wants gas prices to go up higher? Is there anybody here who thinks that makes a lot of sense?"
Watch the video below:

Editor's note: This post has been edited since it's original posting – Jon Nicosia
Have a tip we should know? tips@mediaite.com