Ed Koch Tells Al Sharpton He's 'Back On Board The Bus' With President Obama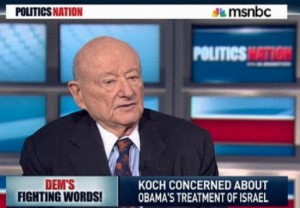 Former New York City Mayor Ed Koch, a Democrat who endorsed Republican Bob Turner in New York's 9th District special election for the Anthony Weiner seat to "send a message to Obama to take a stronger position in support of Israel," told MSNBC's Rev. Al Sharpton last night that he is "back on board the bus," and will campaign for the President's reelection. Koch recounted, for Sharpton's PoliticsNation viewers, the conversation he had with the President that changed his mind.

Koch's criticism of the President was pegged to remarks the President made in May that were widely misinterpreted, and misreported. During his conversation with President Obama, Koch also mistakenly said that the President had called for a return to the pre-1967 borders, but his criticism was aimed at what the President didn't say. "And I said, you know, Mr. President, when you said Israel should go back to the pre-'67 lines, I wouldn't have gotten angry as I did get angry, even though I disagree with that because it makes Israel indefensible, no defensible lines," Koch said, although that's not what the President said at the time.
"But you didn't, at the same time, demand that Hamas give up terrorism," Mr. Koch continued, "that it recognize the state of Israel, and that if there were successful negotiations, recognize it as a Jewish state, and also end its charter, which says that every Jew who came to Palestine after 1917 must be expelled.  You didn't say that."
According to Mayor Koch, the President replied, "I thought I did."
Koch says that he's "back on board the bus" now, thanks to his conversation with the President, and to the speech that he gave to the United Nations general assembly a few weeks ago, which also saw the President's approval surge among Israelis. Hizzoner says he will campaign for the President's reelection. "He said he needs me, and he said my voice is heard outside of New York," Koch told Sharpton.
Koch also said that the White House should take a very hard line with Iran over the recently-uncovered plot to assassinate a Saudi diplomat on US soil. "The United States, in my judgment," he said, "should say to Iran that any attack upon Saudi Arabia or Israel will be deemed by us as an attack upon the United States, and we will retaliate immediately."
"If he did that," Mr. Koch added, "instead of getting 78 percent of the Jewish vote and hopefully 78 percent of the Arab vote, he'll get 90 percent in both cases."
Sharpton and Koch also waxed nostalgic about the Mayor's 1977 jailing of Sharpton, and related it to the current Occupy Wall Street protests, of which Koch is supportive, "as long as they're peaceful."
"I join them," Koch said of the protesters' ire at Wall Street. "I think that it is an outrage that no CEO, no CFO of any corporation, major corporation on Wall Street or the banks has been convicted and sent to jail for having engaged in criminality and bringing on the Great Recession."
Here's the clip, from MSNBC's PoliticsNation:
Have a tip we should know? tips@mediaite.com