Ed Rendell Dismisses Hillary Emails: Why Isn't MSNBC Talking About Infrastructure?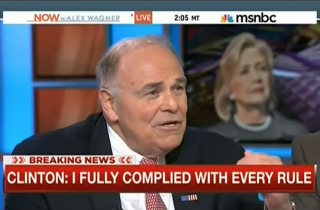 Former Pennsylvania Gov. Ed Rendell called out MSNBC (on MSNBC, no less) on Tuesday during the network's post-Hillary Clinton presser analysis for not focusing on more pressing issues like infrastructure spending.
Rendell succinctly echoed Clinton's remarks and defended her from Lawrence O'Donnell's criticism, but then quickly changed the subject.
"But look, this country's infrastructure is falling apart, we have 47 senators who, for the first time in the history of this country, sent a letter to a foreign country, undermining the president, and we're talking about emails?" Rendell lamented. "There's something wrong with the political process."
Host Alex Wagner quickly pushed back, saying the point of their discussion was to discuss the 2016 race. She also noted how Clinton started the press conference by immediately addressing those seemingly more "important matters." But that was not enough of an excuse for Rendell, who said the reason why fewer people vote each year is because the "chattering class" (himself included, he said) talks about "stuff like this [Hillary's emails]."
"When's the last time we had a real, serious discussion on how to fund the infrastructure needs of this country?" Rendell continued. "Our infrastructure is falling apart, and I haven't seen it on MSNBC, I haven't seen it on Fox."
Wagner again had to defend the network, saying they do, in fact, talk about infrastructure spending. She then quickly pivoted the conversation back to Clinton's press conference.
Watch the video below, via MSNBC:
[Image via screengrab]
— —
>>Follow Andrew Desiderio (@forza_desiderio) on Twitter
Have a tip we should know? tips@mediaite.com