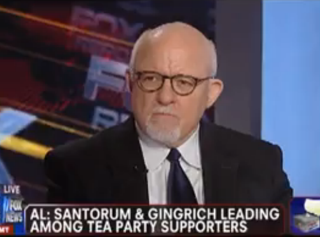 In the twilight of the Alabama and Mississippi Republican campaign season, former Rep. Michele Bachmann campaign head Ed Rollins visited Shepard Smith for some final thoughts on the race and the money pushing it forward. Rollins argued that the continuance of the race could be attributed almost single-handedly to SuperPACs, noting that without them, Mitt Romney could have easily shut down Rick Santorum and Newt Gingrich.
RELATED: Newt Gingrich: I Have A 'Very Open Relationship' With Billionaire Who Funds Super PAC
The headline, Rollins told Smith, for him would be how well Romney could do in the South, which Romney himself referred to several times as an "away game." Smith (himself from Mississippi) joked that he was "embarrassed for him" when listening to him attempt to talk about cheesy grits, but no matter what it took, Rollins noted that "he's going to come out with delegates and make a win." The headline, Rollins later repeated, was that "as a Yankee, Romney wasn't expected to do well," and he did. He also predicted that until Rick Santorum or Gingrich "gets out, it's going to be hard to stop Romney."
The case he made for the SuperPACs was somewhat roundabout, but putting two and two together, Rollins seems to suggest that Republican voters are benefiting from their existence. "If Santorum and Gingrich were not funded by SuperPACs," he told Smith in response to a question about Gingrich-backing casino magnate Sheldon Adelson, "Romney would have won this thing a long time ago." He noted that the spending was not just on the Republican side at this point in the race– "Barack Obama is spending his millions, but he is spending on resources," though of course he had a bit of an advantage.
Rollins predicted that Santorum and Romney would split the two states, and "Gingrich will come in third both places." Asked if Gingrich should drop out, Rollins said, "he should, but he won't."
The segment via Fox News below:

Have a tip we should know? tips@mediaite.com