Ed Schultz And Guest Take On Judge's Racist Email, Joe Arpaio's Birth Certificate Conference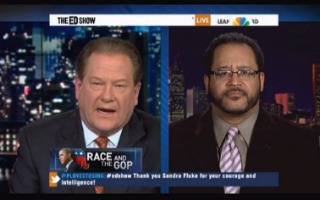 On his show Thursday night, MSNBC's Ed Schultz focused on what he called "anti-Obama craziness" in the form of "racism within the Republican party, and racism in the judicial system."
First, he took Chief U.S. District Judge Richard Cebull to task over an email he'd sent about a racist, bestiality-themed joke concerning President Barack Obama and the President's mother. "Hope it touches your heart as it did mine," the judge had joked.
The joke in question? Likened having intercourse with a black man to having sex with a dog:
A little boy said to his mother; "Mommy, how come I'm black and you're white?"

His mother replied, "Don't even go there Barack! From what I can remember about that party, you're lucky you don't bark!"
Judge Cebull apologized for the email after it became public, saying that he hadn't initially "send the joke as racist," although "that's what it is." The Ninth Circuit is set to conduct a misconduct review at Cebull's own request.
RELATED: Federal Judge Caught Emailing Racist Bestiality-Themed Joke About President Obama
Schultz then turned his attention to controversial Maricopa County Sheriff Joe Arpaio, who today held a news conference about the President's bitch certificate. "We believe probable cause exists," Arpaio had said of the birth certificate, "indicating forgery and fraud may have been committed." Schultz noted that a report from the U.S. Justice Department indicates that Arpaio has engaged in "widespread racial profiling" in his role as Sheriff.
"It is sad," that Schultz, "that we are at this point in this country. These stories keep coming up. But a federal judge… a judge does this? A U.S. District judge having fun with racism. Would you like to go in front of him if you're a person of color? Would you like to be in a situation where a judgment has to be rendered by this man on the bench? This man shouldn't be investigated; he should be removed."
Schultz invited MSNBC political analyst and Georgetown professor Michael Eric Dyson onto the show to discuss whether Judge Cebull could possibly be objective when it comes to issues of race. Dyson's answer Nope, because he's "already been informed by a certain kind of bigotry and prejudice toward African American people." As such, he agreed with Schultz that Cebull should be removed from the bench.
As for Arpaio's preoccupation with the President's citizenship, Dyson feels it's just "more of the same kind of, you know, refusal to acknowledge Obama as a legitimate American."
Have a look, via MSNBC:
Have a tip we should know? tips@mediaite.com