Ed Schultz And Lawrence O'Donnell Get Into It Over Rick Santorum 'Manufacturing Plan'
Schultz And O'Donnell Get Into It Over Rick Santorum 'Manufacturing Plan'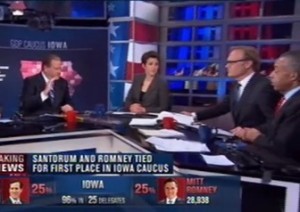 Things got a little bit heated during MSNBC's Iowa Caucus coverage Tuesday night when The Ed Show host Ed Schultz and The Last Word host Lawrence O'Donnell sparred over surging candidate Rick Santorum's tax repatriation plan, and whether it constitutes a "manufacturing plan."
The exchange was heated, but brief, as co-anchor Rachel Maddow comically saved the day with the cheery declatarion, "Look! It's Rick Perry!"
Rev. Al Sharpton began by observing that, rather than heading into New Hampshire with a focus on President Obama, Mitt Romney now "has got to run against Santorum, and the longer that narrative plays, the better it is for the President."
Sizing up the danger that Santorum presents to Romney, Schultz said "I've seen him on the stump. He does talk about manufacturing. He talks about repatriating money coming back into the United States. Zero percent when it comes to corporate tax. I mean, he does have a manufacturing plan, which is going to play well in New Hampshire."
"That is not a manufacturing plan," O'Donnell cut in. "That is a big corporate tax break that produces absolutely…"
"That is his pitch, Lawrence," Schultz replied. "I've seen it. I was there."
After a few more seconds of heated back-and-forth, just when it started to get good, The Rachel Maddow Show's Rachel Maddow cut through the tension by cheerily exclaiming, "Look! It's Rick Perry!"
The segment resembled nothing so much as a heated Thanksgiving dinner that ends with mom piping up "Who wants pie?!?"
To many liberals, it may seem as if Schultz is getting carried away with Rick Santorum, whom he has compared favorably with President Obama, and whose retail politicking earned raves from Schultz last week. Santorum is so despised by liberals that they tend to dismiss him, as Maddow does, but if you're going to cover a Republican primary, you can't think like a liberal. The things that make Santorum repugnant to liberals are the very keys to his success in GOP primaries, particularly Iowa.
Schultz's point, I believe, wasn't about the merits of Santorum's plan, but about the appeal of manufacturing rhetoric, while O'Donnell was having a different conversation entirely. The plan calls for tax-free repatriation of profits, as long as the funds are used to purchase manufacturing equipment. Santorum says this will spur manufacturing, but critics say it's just a giveaway to corporations that will be used for purchases they were going to make anyway.
Ed's assessment of Santorum's retail skills is dead-on, and he's right about how Santorum's plan will play with voters, but it is also necessary to go over the substance of the issue. I'd have been interested to see if Schultz would have done that, had O'Donnell given him the chance. It's also worth considering whether O'Donnell jumped all over Schultz out of anti-Santorum zeal, or because of some sour-grapey unresolved resentment over Schultz's takeover of O'Donnell's 8pm time slot. Maybe it was a bit of each.
Here's the clip, from MSNBC:
Have a tip we should know? tips@mediaite.com