Schultz Attacks NY Times, Geraldo, Ron Fournier for 'Despicable' Comparison of Obamacare to Katrina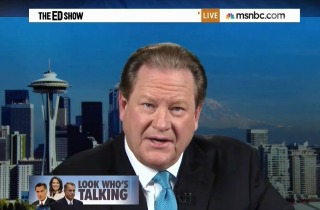 MSNBC host Ed Schultz ripped into every pundit and media outlet making a historical comparison to the botched roll-out of the Affordable Care Act to any event that occurred under the Bush administration. Schultz tore into the New York Times, Fox News Channel host Geraldo Rivera, and National Journal Editorial Director Ron Fournier who all compared the ACA roll-out to George W. Bush's response to Hurricane Katrina or the Iraqi insurgency.

Schultz began Friday's commentary by savaging the 39 House Democrats who voted in favor of Rep. Fred Upton's (R-MI) bill which would allow those who have lost their insurance plans to reacquire them indefinitely.
"What they have done has given an open highway to the insurance industry to add more stuff so they can make more profits and screw the consumers," Schultz exclaimed.
Pivoting to the political commentators and politicians criticizing the ACA roll-out, Schultz started down the list by attacking Mitt Romney. "The middle class millionaire had the nerve to call the president dishonest?" Schultz began.
"Romney needs to stay hidden in his car elevator, I think," he observed. "I think we should remind the Mitt-ster, 47 percent dishonesty cost him the election."
He turned to Rivera who told the hosts of Fox & Friends on Friday that the ACA roll-out issues were comparable to Katrina and the run-up to the war in Iraq, but he hoped that the president would recover from them because "he's the only president we have."
"So, here comes the New York Times," Schultz then said. "The Times also made the truly unbelievable comparison this morning."
"Give me a break," Schultz said in reaction to a headline that made the comparison between the ACA roll-out and Katrina.
He then attacked the guests on MSNBC's Morning Joe, including Fournier and Nicolle Wallace.
"Comparing the law that will save millions of lives in this country to these two dark events is absolutely despicable," Schultz continued. "George W. Bush's negligence in the handling of Katrina cost American lives. The botched war of choice, may I remind all Americans, in Iraq resulted in over 4,000 Americans being killed, for what?"
"Comparing these two horrible chapters in American history to a law that will save lives is truly unbelievable," he concluded.
Watch the segment below via MSNBC:
Visit NBCNews.com for breaking news, world news, and news about the economy
[Photo via screen grab ]
— —
> >Follow Noah Rothman (@NoahCRothman) on Twitter
Have a tip we should know? tips@mediaite.com