Ed Schultz, Barbara Boxer Equate Obamacare with Civil Rights, Women's Suffrage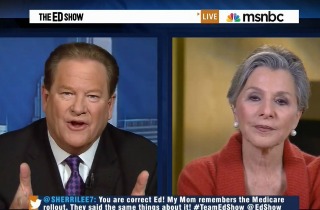 On Tuesday evenings The Ed Show on MSNBC, Sen. Barbara Boxer (D-CA) joined host Ed Schultz to discuss how the Affordable Care Act will impact the 2014 midterm elections. Schultz urged Democrats to run on expanding access to health insurance which he had earlier called "the civil rights issue of our time." Boxer and Schultz proceeded to equate expanding access to health insurance with the Civil Rights Movement and women's suffrage.

Schultz began by saying he is confident that the federal health insurance exchange website will be fully functional well before next year's midterms and asked Boxer what she thinks the national conversation will be centered on by next autumn.
"It's going to be between candidates who are making this new health care plan work so that our people can have the peace of mind," Boxer said. She said that any candidate who advocates for an insurance system that existed before the ACA was law would be at a disadvantage with voters.
"Remember, all Americans are going to be really benefiting from this now," Boxer asserted.
RELATED: Krugman: Obamacare Becoming 'Benghazi-Type Affair' 'Nobody Else Cares About' but GOP
"In our business, we say things," Schultz said. "And sometimes we say things really fast and audiences don't grab it."
"You can say 'preexisting condition' in a matter of seconds," he added. "But to that person who has been denied for years because of a preexisting condition, this is as big as it gets for any consumer."
"This is real reform, and the American people need to grab this," Schultz said with a laugh. "Being told whether you can sit at a café counter or not because of the color of your skin. Being told whether you can vote or not because you're a woman. Being told that you can get equal pay in the workplace."
"To be told that, 'Well, no matter what your health condition is, the insurance industry is not going to be able to turn you away,' how can the Democrats not run on that?" Schultz asked. "It would seem to me that this would be an absolute walk into power for the Democrats in the midterms."
"I believe you are right," Boxer replied. "This is a huge issue. We have had this problem forever and finally it's getting fixed."
Watch the clip below via MSNBC:
[Photo via screen grab ]
— —
> >Follow Noah Rothman (@NoahCRothman) on Twitter
Have a tip we should know? [email protected]