Ed Schultz Berates and Hangs Up on Veteran: 'Get Your Freakin' Facts Straight!'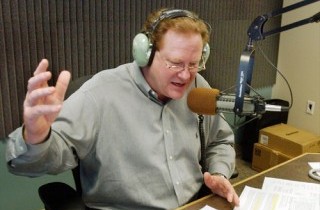 On his syndicated radio show Thursday afternoon, MSNBC host Ed Schultz shouted down and eventually hung up on a man who called in to dispute the host's claims that the Republican Party is the enemy of veterans.
"I just called to disagree with you about Democrats caring about veterans," the called named "Russell" said. "I'm a retired veteran with 23 years of service and I don't know if you know it, but 1 October, 171,000 of us were kicked off our health care. And those 'evil Republicans,' as you like to call them, passed a bill in June and it's been sitting in the Senate and Reid won't bring it up."
"First of all, you have, uh, your facts wrong," Schultz replied. When Russell tried to get another word in, Schultz immediately began shouting: "I'm not going to freaking argue with you, Russell. You're full of crap, okay? You're full of it. The government shutdown hurt the veterans. Is that wrong or right?"
"It hasn't hurt us yet," Russell shot back.
"I am going to break your idiot argument down piece by piece," Schultz said.
When Russell noted that he is one of the veterans who recently lost their benefits, suggesting the Democrats have worsened the situation by not taking up the GOP proposal, Schultz told the man "You have your facts wrong." The radio host expressed frustration at the conversation, dismissing his caller as being in need of a "right-wing talker" so that he can "go drink some Kool-Aid."
He then tore into the caller once more:
You can pin blame on whatever bill you want to pin blame on. The devil is in the details. The buck stops with the dollar. Who shut the government down? The Republicans. The Republicans. Who's hanging in the balance right now? That Vietnam veteran with his legs lost, in a wheelchair, his only hope is to get a VA check. Who cut that off? And you're telling me that you're worried about health care when you've got a situation like that? And there's 170,000 that were thrown off? Let me tell you how many hundreds of thousands have been thrown off from care because the Republicans have cut the funding to the VA. You gotta get your freaking facts straight, dude.
At another point, Schultz yelled at the caller for calling him "sir," telling him "I'm not a 'sir' to you, the way you talk to me."
Eventually, after several minutes of arguing, the host finally ended the call by hanging up on Russell. "I don't want to deal with you. I just don't," he said. "Veterans, I don't know who got in between their ears to make them think that the Republicans are their best friend. It drives me nuts. It drives me nuts. I admit it."
Listen below, via The Ed Schultz Show:
[h/t
Media Research Center
]
— —
>> Follow Andrew Kirell (@AndrewKirell) on Twitter
Have a tip we should know? tips@mediaite.com