Ed Schultz Blasts Fox News' Steve 'Douchey' For 'Shameful' Hillary Clinton 'Facelift' Crack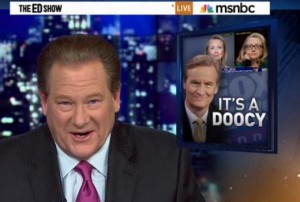 Fox and Friends star Steve Doocy stepped in it yesterday when he made a crack about future first woman President Hillary Clinton maybe having undergone cosmetic surgery, then tried to wipe his shoes on Twitter. On Wednesday night's The Ed Show, host Ed Schultz wasn't about to let Doocy off the hook, calling out "Steve Douchey" for his "shameful" comment, and blasting his fact-challenged Twitter excuse. Ed missed the glaring flaw in Doocy's walkback, but made up for it with a brief package of Fox News clips uplifting "babes, chicks, what do you call them, Steve, skirts?"
Outgoing Secretary of State and 2016 shoo-in Hillary Clinton created a stir with the launch of a new website, featuring a glowing portrait that moved Steve Doocy to remark that "Days after retiring, Secretary of State Hillary Clinton, somebody has launched a new website for her, showing off this glamorous new face. Face-lift, perhaps?"
Lost in the uproar over Doocy's sexism, though, is his observation that the site is "fueling rumors about a run for president in 2016," which is like saying the color blue is fueling rumors of a sky. Hillary Clinton 2016 is going to happen.
Doocy then took to Twitter to explain to "lefty blogs," and presumably, other people with ears, that he was referring to the website having a facelift.
"Really?" Ed said, incredulously. "See, the folks over at Fox News, they can't even get their facts straight when they're pretending to apologize. If he was really talking about the website, what's the point of the side by side photographs?"
More to the point, how could Doocy have been referring to a "facelift" for a brand-new website?
Schultz went on to call the remark "shameful," and added "Well, what do you expect, it's Fox. The bar has been set pretty low, don't you think?"
He then played a brief, but by no means comprehensive, compilation of Fox News friends cracking wise about womenfolk, concluding "You be the judge."
Or, Ed Schultz reports, you decide.
One of the dynamics to emerge from the 2008 election was a newfound conservative affinity for Hillary Clinton, as compared to Barack Obama. That store of goodwill, if any of it remains, will be replaced, over the next four years, with an opposition that will make Obama Derangement Syndrome look like a game of Tiddlywinks. We should just be thankful no one is demanding Hillary's long-form face. Yet.
Here's the clip, from MSNBC's The Ed Show:
Have a tip we should know? [email protected]