Ed Schultz Blasts Fox's 'Steve Douchey,' Cavuto for Claiming Iran Deal Distraction from Obamacare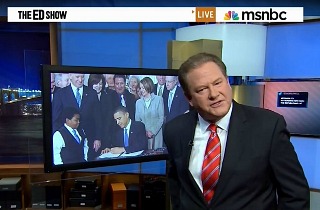 MSNBC host Ed Schultz tore into the conservative political hosts on Fox News Channel on Monday for implying, or outright stating in some cases, that the deal reached this weekend with Iran over its nuclear weapons program was a political effort to distract from the Affordable Care Act's implementation woes.

Schultz began by highlighting to a tweet from Sen. John Cornyn (R-TX) who accused the White House of distracting from the ACA's failures with an Iranian deal within minutes of its announcement. He added that Rep. Mike Rogers (R-MI) accused the White House of seeking a deal with Iran "just to get a deal."
"Well, maybe the Republicans said it because they knew some broadcasters on the right would take the bait," Schultz opined. Mispronouncing his name, Schultz observed that Fox & Friends host Steve Doocy and Your World host Neil Cavuto both suggesting White House was intentionally diverting the news cycle by securing a deal with Iran.
RELATED: MSNBC's Ed Schultz Jabs at Fox's The Five
"This is utterly amazing, but it also shows how desperate the right wing is to develop any kind of narrative they can in the media they can so that people will pick it up and say, 'Yeah, this Iranian thing is all about Obamacare,'" Schultz continued.
"Obamacare, I know it doesn't show it in the polls right now, but I think that people are a little bit behind this one," he continued. "Obamacare has been on a roll the last couple of week. Nobody wants to report it." He cited state-level private insurance enrollment statistics which showed enrollees doubling in November, from 79,000 to 150,000.
Turning to foreign policy, Schultz said that Republicans are frustrated with the president because of his long list of accomplishments abroad. The MSNBC host cited the killing of Osama bin Laden, the toppling of Muammar Gadhafi without a ground invasion, withdrawing from Iraq, winding down the war in Afghanistan, and the partial dismantling of the Syrian chemical weapons program.
"You simply can't compete with this list of foreign policy accomplishments," Schultz asserted. He concluded that Republicans are railing against the Iran nuclear deal because Secretary of State John Kerry, former Democratic presidential nominee in 2004, has been a key negotiator.
Watch the clip below via MSNBC:
[Photo via screen grab ]
— —
> >Follow Noah Rothman (@NoahCRothman) on Twitter
Have a tip we should know? tips@mediaite.com