Ed Schultz Blasts White House Press Corps For Focus On Skeet-Shooting 'Shiny Object'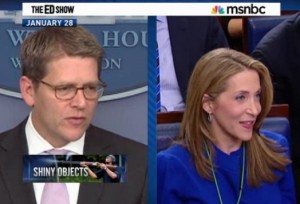 The week-long diversion into President Obama's recreational activities at Camp David is finally over, but on Monday night's The Ed Show, host Ed Schultz took the Beltway media, and the White House press corps, to task for fighting over one last bite at the skeet-shooting apple. Panelist and White House veteran Richard Wolffe criticized the "pack mentality" of our White House colleagues, and said "You hold public officials accountable, not for a random comment, but for their policy, for the effects of their policy. That is what the job of the press is."
At a Monday gaggle aboard Air Force One, Press Secretary Jay Carney fielded questions on a variety of issues, but it was the very last question that touched off a frenzy among the White House reporters present: (transcript via email from The White House)
Q Actually I have one more — on skeet shooting. Why did the White House —

MR. CARNEY: I was wondering. (Laughter.)

Q Why did the White House decide to release the skeet shooting photo two days before this trip, particularly when the press corps had requested any photos of skeet shooting days earlier? And will you now release a list of friends or family or guests with whom the President has skeet shot, since you do that with golf partners? Thank you.

MR. CARNEY: Let me say this. I thought the question was going to be, why did we wait five days. The fact is the President was asked a question — did not volunteer, but was asked a question — about whether or not he had ever shot a weapon. He answered with the truth, which is that he has enjoyed shooting competitively with friends at Camp David on multiple occasions. I think it's fair to say that we believed that would have been answer enough.

And when I said from the podium that as a rule we don't treat his private time at Camp David with friends and family as matters for public consumption, that's the truth, as you know. But there were persistent questions about this, so we decided to release a photo of the President shooting at Camp David. The timing of that I think is explained by what I just said.

Q Does he shoot skeet or trap when he shoots?

MR. CARNEY: I'm not an expert, and I don't think he would claim to be either. What I can tell you is that he has enjoyed competing with friends up there at Camp David. As you probably know, the President likes competition of all kinds.

Q Is he good?

MR. CARNEY: I think he has gotten better. But here's the thing to understand — the President has made clear he grew up in Hawaii; he spent time in his life in California and Chicago and Cambridge. I mean, this is not — he never pretended to, or suggested that he had grown up as a hunter, or engaging in sports activities with weapons. He simply said that he had — and this is the truth — that he had enjoyed shooting at Camp David. That's a fact.

Q Has he ever shot a weapon before being President?

MR. CARNEY: I'm not sure of the answer to that question. I know that he has shot weapons not just at Camp David.

Q Does he personally own any firearms?

MR. CARNEY: Not that I'm aware of, no.

Q What does that mean? You know he has shot weapons elsewhere?

MR. CARNEY: I'm just saying this is not — I don't know in terms of the timing, but I know that he has not —

Q He has — so skeet shooting at Camp David is not his only experience?

MR. CARNEY: It's not the only time he has shot a weapon.

Q So when were the other times?

MR. CARNEY: I don't have any details on that for you.

Q Could you find out?

MR. CARNEY: Again, the issue here is whether or not the President, in fact, as should have been apparent when he said it, had gone shooting at Camp David. So we released the photo to demonstrate that. But I don't have an accounting of all the times that he has shot a weapon for you.

Q Do you know whether he has fired a handgun at a shooting range or something like that, for sport?

MR. CARNEY: I don't have any more for you it, guys.
Ed Schultz was none too pleased. "This photo completely overshadowed the talk of universal background checks," and added that "a photo of the President shooting skeet does not affect gun laws one bit. It only distracts from the major issues at hand."
Ed also compared the press' Columbo-esque pursuit of the skeet story to the deranged "Birther" conspiracy. "The smiles are great at the press conferences with Jay Carney, but is this really what the American people are concerned about, what the President does on his free time at Camp David?" Shultz said. "And does he always have to step forward with some evidence that he has told the truth to reporters? And this is just a big demand coming from the Washington media that he has to show this photo so everybody will believe that he really has touched a gun, and fired a gun, and has some noise cancelling headsets on. Kind of parallels the Birthers, doesn't it? We won't believe it until we see it, and still won't believe it after we see it."
Vice president and executive editor of MSNBC.com Richard Wolffe defended the work of some individual reporters, but said "as a pack, as a pack mentality, this is a game," and criticized the press for the focus on this silliness. "We have two very compelling stories here," Wolffe said. "One of them is actually about children dying, and how you respond to that. and the other is about a photo. So I actually think they have kind of disappeared into their own world, and their own competitive desires, which is let's have some fun with this. Let's get some clicks, and let's have something that is shareable. People love that photo. But at the heart, if you're going to hold people accountable, if the Washington Post is true to its word, you hold public officials accountable not for a random comment, but for their policy, for the effects of their policy. That is what the job of the press is."
Like Wolffe, my first impulse is always to defend my colleagues in the White House press, but it really does take more balls than a Spalding factory to demand that the White House produce a photo, then demand to know why they produced it, and the frenzy that question touched off is a little bit embarrassing. Sometimes, reporters are legitimately fascinated with things that don't seem all that important. For example, as a longtime poker player, I would love some more information about the President's game (of which there are no photos, yet people still believe it), because there are some parallels between the game and President Obama's mindset and temperament. However, that doesn't mean we all gang-tackle Carney about it, and demand a roster of players, especially not in the midst of a deadly-serious policy debate.
But the often overlooked problem with the White House press corps isn't the questions they ask, but the questions that get paid attention to. The Nation's Katrina Katrina vanden Heuvel criticized the press corps for not asking Carney about the death of 15 year-old Hadiya Pendleton, but Carney was asked about the tragic murder of the girl who performed at President Obama's inauguration. For some reason, that extended Jan. 30 exchange just didn't make news.
In much the same way, another exchange from Monday's gaggle got very little attention, even though it involves the very sort of accountability that Richard Wolffe is talking about. The press, along with skittish lawmakers who don't want to test the NRA's strength, have been promoting a narrative that the assault weapons ban just can't pass, and on Monday, invited the President to the party. Stick a pin in this exchange:
Q Just to follow on something that Mark asked on the assault weapons ban — I get that the President obviously supports reinstating the ban, and I get that he has acknowledged that it's going to be difficult, but there is a certain point where you have to deal with reality. And Senator Reid and several other Democrats — including Senator Feinstein, who is pushing for an assault weapons ban — have said this — either they can't support this at this point, they're not making their public opinion known, or they acknowledge it's very unlikely that it's going to pass. At what point do you make a decision to put Democrats out there and have to take up a tough vote, or look to do something else that maybe has a better chance of passing, like universal background checks?

MR. CARNEY: I appreciate the question. And, again, the President recognizes, and we all recognize, that all the components of this are difficult and face challenges, some perhaps even more than others. But the President's support is firm and clear. And we're certainly not going to preemptively alter the President's set of proposals before there is even — there are even votes scheduled or this debate has been fully joined.

So I think it's just premature to start writing off the chances of any piece of this package. The fact is there is — for every piece of it, there is, at least by most public opinion polls, majority support. And we need to have this conversation. The President made clear when he talked about this on several occasions that that conversation should be, and is taking place, not just in the usual corners of the country but all around the country. And that's very important, because this is a problem that affects the entire country in different ways and that the entire country needs to express itself on.

Q Jay, have Reid and Obama talked about the prospects for Democratic votes on an assault weapons ban?

MR. CARNEY: Has who?

Q Have Reid and Obama talked about the prospects for Democratic votes?

MR. CARNEY: I don't know the context of their conversations about this issue.
The key to successful gun reform is to make lawmakers vote on all of the President's proposals, because if legislators are permitted to just let the assault weapons ban die due to amorphous, nameless "opposition," voters will be robbed, not just of a fair vote on an important proposal, but of the chance to express themselves in the next election. They are owed a vote, and an explanation for that vote. That goes for opponents and proponents alike, all of whom deserve to help settle the question of whether an assault weapons ban is politically toxic, or as popular as polling indicates.
President Obama has consistently pushed for such a vote, and a senior White House official tells Mediaite that the administration "wants a vote" on the assault weapons ban, so the press needs to pay attention, and make sure that the President doesn't let Harry Reid off the hook when the rubber meets the road. He promised to do everything in his power to get this done, and if that means shaming members of his own party into making a "tough vote," then so be it.
As for the distraction factor of this whole skeet-shooting incident, it may have detracted, somewhat, from the policy debate, but on balance, it may benefit the President, and the cause of sensible gun regulation, politically. The warped sense of priorities and irrational suspicion it revealed should resonate with ordinary Americans, many of whom have dabbled in shooting sports, but have no photographic evidence of it. Most gun owners aren't owned by their guns, and don't expect everyone in the world to fetishize weapons. The President, and those who support him, emerged from this "scandal" looking much more reasonable, which should help to deflate some of the irrational fears about sensible gun regulation.
Here's the clip, from MSNBC's The Ed Show:
Follow Tommy Christopher (@TommyXtopher) on Twitter.
Have a tip we should know? tips@mediaite.com