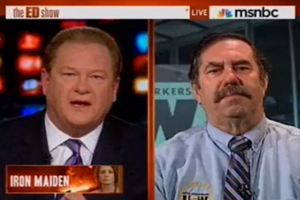 MSNBC host Ed Schultz is sticking his neck out in support of America's unions in light of what he perceives to be a right-wing onslaught from the conservative media to discredit them. In speaking to Leo Gerard of the United Steelworkers of America, Schultz took the fight to Frank Rich of the New York Times, challenging him to cover his interview with Gerard and follow up on it.
Gerard was on the program to defend unions against claims that foreign money had been circulating in their funding. "I can't tell you how distressful it is to think our democracy is up for sale," he told Schultz, challenging "secret clubs" in Congress to be as transparent about their budgets as he claims his organization is. Schultz asked if it was possible for auditors to look through his unions accounting and, upon receiving an affirmative answer, Schultz took it as a cue to attack the Times, Rich, and far-right media:
"I challenge Frank Rich and the New York Times to do the damn story. You know, he's insinuating that there's foreign money in unions in this country. Mr. Rich, I hope you're watching tonight and I hope you follow up on an interview that I just did here. You know, it is amazing to me how many lies there are and distortions in the media when it comes to the working folk of America. you know, they just throw it out there."
The ball is in Rich's court now, though as his most recent work seems to challenge the funding of the Tea Party movement and its motives more than unions, it's difficult to imagine what the response to this attack will be, if any.
Schultz's challenge to Rich via MSNBC below:

Have a tip we should know? tips@mediaite.com