Ed Schultz: 'For Michele Bachmann To Say She Hasn't Had A Gaffe Is Laughable'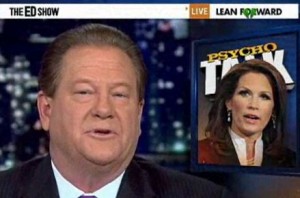 Michele Bachmann has been amping up her criticism of her Republican rivals for the presidency, and this week on Fox News she explained that unlike some of the other candidates, she hasn't made any major gaffes that have hurt her candidacy in a major way like what happened to Rick Perry and Herman Cain in recent weeks. However, on his Psycho Talk segment last night, Ed Schultz found Bachmann's contention that she never made any gaffes during the primary campaign an absurd thought.
Schultz believed that Bachmann has been in denial about her lagging poll numbers, and showing how she has dropped even in her home state of Iowa. But his bigger problem was with her claim she's never gaffed, so cue the video montage!
RELATED: Michele Bachmann's Misstatements Finally Catching Up To Her?
Highlights included Bachmann's infamous "looking at the wrong camera" moment following the president's State of the Union address and her contention that John Wayne was from Waterloo, Iowa. After the video played, Schultz admitted there were other examples he could show, but there were more important stories he had to get to.
In fairness to Bachmann, The Washington Post notes the context of her statement, namely that she hasn't had any major gaffes that "caused [her] to fall in the polls." That statement is fairly accurate, because Bachmann did not start to dip in the polls until Perry entered the race and her gaffes did not have as much to do with it.
Watch the video below, courtesy of MSNBC:
Have a tip we should know? tips@mediaite.com
Josh Feldman - Senior Editor