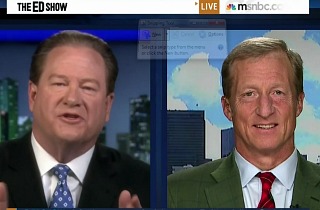 MSNBC host Ed Schultz has been among his network's most vocal critic of the libertarian billionaire Koch Brothers almost since the moment when the Democratic Party determined that villainizing the siblings was the best path to retaining their Senate majority.
Schultz has carefully managed the image of himself as a populist champion of the little guy and a broadcaster who fights against the political influence of big-dollar donors. Over the past several months, Schultz has implied that the Kochs wield such influence over the government that they essentially control two of its three branches.
"He talks about free and open debate," Schultz said on April 3 of a recent op-ed in the Wall Street Journal from Charles Koch. "What about yesterday's Supreme Court ruling on campaign finance. Is that 'free and open debate,' or is that a rich guy who's bought so much the only thing he can buy is his government."
"How do we get money out of politics?" Schultz was asked by a naïve viewer in August. Schultz confessed that money would always be a part of politics, but he believes that a Democratic majority in Congress would yield the welcome development of stricter campaign finance laws.
But Schultz is not coming to this position recently. He has cultivated the image of himself as a finance reformer since prior to the release of his 2010 book Killer Politics: How Big Money and Bad Politics Are Destroying the Great American Middle Class.
"Where ever the money is, you can follow the decision making pattern," Schultz said on C-SPAN 2 while promoting his book. "I belive that the people's priority has to take precedent in Washington, and not the big money."
Well, those concerns about big money in politics go right out the window if the politics of the donor in question are liberal. That's the impression left after Schultz gave Keystone XL opponent, former hedge fund founder, and prolific Democratic donor Tom Steyer a glowing interview on Monday in the wake of the federal government's move to punt a decision on the pipeline off until after the 2014 midterm elections.
"You have been given the dubious distinction of being the godfather of green right now. God bless you for that," Schultz, who had been a supporter of Keystone just last month, told Steyer.
The subject of big money in politics did not come up, save for an opportunity Schultz gave Steyer to respond to former Bush advisor Karl Rove who accused the prolific Democratic donor of being a prolific Democratic donor. Steyer responded by accusing Rove of lying about him and of mispronouncing his name.
But regardless of how the green energy entrepreneur stands to benefit from blocking the pipeline, the fact that he is a prominent Democratic donor is beyond dispute.
Steyer has pledged $50 million of his own money to Democrats who oppose the pipeline this year, to be matched by another $50 million from other donors. Open Secrets names Steyer and his wife as the number one ranked individual political contributors, topping even former New York City Mayor Michael Bloomberg. In this cycle alone, Steyer has directed $1.9 million toward Democratic or liberal candidates.
Some, including National Review editor Rich Lowry, believe that the paucity of liberal donors amid what promises to be a punishing election cycle for Democrats means that even their most "meritless" causes must be taken seriously by the like-minded lawmakers who hope to benefit from their largess.
But this imperative for the Democratic Party means that broadcasters like Schultz must embrace a bit of hypocrisy in the process. Anything for the cause, I suppose.
Watch the clip below, via MSNBC:
[photo via screengrab ]
 — — 
>> Follow Noah Rothman (@NoahCRothman) on Twitter
Have a tip we should know? [email protected]